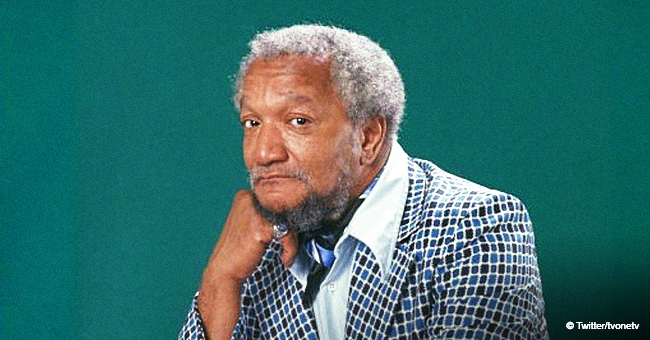 Redd Foxx Had a Great Acting Career but Went Bankrupt after the IRS Caught up with Him

Redd Foxx might have had an impeccable acting career, but he eventually became bankrupt during the latter years of his career because the IRS caught up with him for tax evation.
In November 28, 1989, local TV stations were broadcasting live footage of Redd Foxx, then 67-years-old, standing in front of his Las Vegas mansion with nothing but his underwear. He was shaking his head in disbelief as he watched the IRS seize all of his possessions which included his model T, Redd Foxx records, Uzi, Ukelele, personal photographs, furniture, jewelry, and a lot more.
It turns out, he owed the IRS a total of $755,166 in back taxes. After he was caught, Foxx allegedly became bitter towards everyone, with his friends saying he blamed everyone, including racism and the government, but himself.
An approximate 2 years later, he died without money to his name. His own funeral had to be shouldered by a good friend of his.
Eddie Murphy to the rescue
Since Redd Foxx died penniless, someone had to step in and pay for his funeral. That someone ended up being Eddie Murphy, who paid for the entire service and was filled with Hollywood stars. After all, Eddie wanted him to be remembered as the great comedian that he was, and not for the tax evasion that he did.
His funeral ended up being an extravagant affair, and was filled not just by his family, but his friends and Hollywood colleagues as well.
Redd Foxx's Notable Career
Redd Foxx was a comedian that slowly rose to fame. He was first doing rounds in small clubs on the East Coast, before he was discovered by Dootsie Williams of Dootone Records. Dootsie invited him to go to Los Angeles and introduce his comedic style to the audiences in sophisticated clubs, which was not so accepted at the time.
During the beginning of his career, white people found his jokes too "rude and raunchy," but later on, they started to accept his craft and he gained a solid fanbase. While he was recording a lot of his comedy records, it was in 1972 that he gained worldwide fame. He starred in his own show called "Sanford & Son," and it was through this sitcom that his career started to take off.
With money rushing in thanks to his blossoming career, paying his taxes was not something that he considered as his top priority. While he got away with it for years, the IRS eventually caught up to him and the rest is history.
Please fill in your e-mail so we can share with you our top stories!