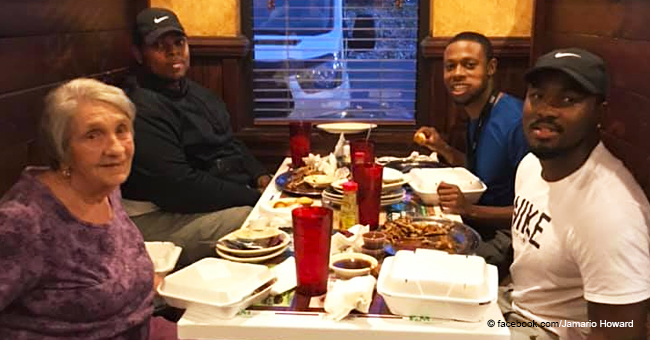 Three Young Men's Act of Kindness Towards an Elderly Widow Dining Alone Goes Viral
An act of kindness by three young men in Oxford, Alabama, became an internet sensation after one of them shared it on social media. They've received high praise for it.
There's a saying that a little act of kindness goes a long way in helping others, and three young men in Oxford, Alabama, proved it to be true.
Jamaro Howard, the initiator of the act, was with his friends, JaMychal Baker and Tae Knight, at a restaurant — Brads — when he noticed a senior woman, Eleanor, sitting alone.
In a Facebook post where he shared the story, Howard wrote that seeing how lonely she looked by herself, he thought to himself that no one should eat alone, and after pondering on it for about a minute, the young man walked up to Eleanor and asked if he could join her.
Glad for the company, she agreed, and they got talking. The 23-year-old discovered that she lost her husband, and the next day, was supposed to be their anniversary.
After expressing his condolences, he invited her over to share the table with his friends, and she agreed. At the table, they talked about family and sports, and it was evident that Eleanor was grateful for the company.
The experience impacted Howard, and he wrote that it changed how he saw people. The Alabama resident wrote that everyone has a story and people shouldn't judge others.
He ended his narrative by advising people to go see their mothers and grandparents, because according to him, "They miss you."
The story went viral and has gotten over 200,000 reactions, including thousands of shares and comments. One comment read:
"God bless your kindness,"
while another wrote:
"A lovely gesture; it goes to show that being kind to strangers does not cost a penny, but can mean much more than money to the other person."
In another part of the United States, a young woman, Mary Latham, is traveling the fifty states in the country on a quest to discover and document acts of kindness and forgiveness.
Latham decision came from watching her mother die after battling cancer. The 32-year-old said her time in the hospital opened her eyes to the suffering of others; it also helped the young woman feel grateful for what she had.
Latham has visited 32 states and stayed in 126 homes, and the funding on of the trip is on the kindness of others, and the adventurer gets around in her mother's Subaru. She intends to turn her findings into a book titled "More Good," and its theme will be the message of good amid so much sadness and heartbreak.
Please fill in your e-mail so we can share with you our top stories!