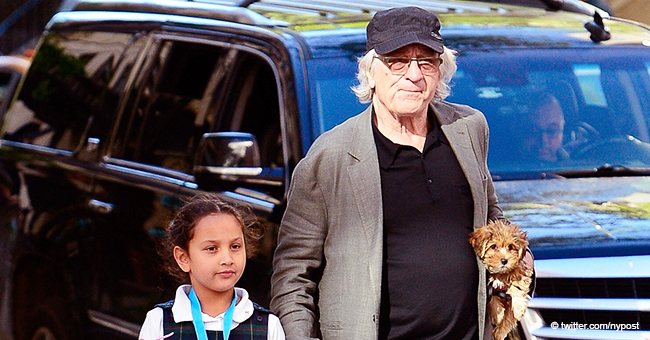 Robert De Niro Spotted Going for Ice Cream with His 7-Year Old Daughter in New York City
After separating from his wife of more than 20 years last year, Robert De Niro was recently seen while walking down a street in New York with his daughter, Helen Grace De Niro.
Robert De Niro, 75, was seen on Wednesday, April 24, as he walked peacefully through New York City with his seven-year-old daughter Helen Grace De Niro, and two small dogs.
The cute girl is the youngest daughter since her renowned Taxi Driver actor who sadly is now in the middle of a legal battle for custody with his third wife, Grace Hightower, 64.
They have two children together: 21-year-old son Elliott and 7-year-old daughter Helen Grace. The two have separated once before when De Niro filed for divorce in 1999 and engaged in a custody dispute over their son.
However, the pair eventually smoothed things over. They reconciled and the divorce was never finalized.
In the images you can see the actor dressed casually in a black polo shirt and a charcoal jacket, very appropriate for the heat of the afternoon. Meanwhile, Helen was dressed in her school uniform in the paintings and proudly wore a medal around her neck.
It seemed that the little girl had won a special assignment at school and Robert decided to reward her and take her for a walk through the city to get ice cream.
The father-daughter duo attracted the glances of everyone around them, one of the elements that most caused curiosity, were their two cute dogs, one of which was small enough so that Robert could easily hold it in his hand.
Robert has always been an advocate of equality and diversity, recently denouncing the current administration of the United States during the pre-opening speech for the premiere of the documentary film "The Apollo" that tells about the cultural life of Harlem and its history.
"In this administration, during these disturbing times of promoting racism, tonight, we reject it. No you don't, not here, not on this stage." Said the actor against Trump policies.
Please fill in your e-mail so we can share with you our top stories!