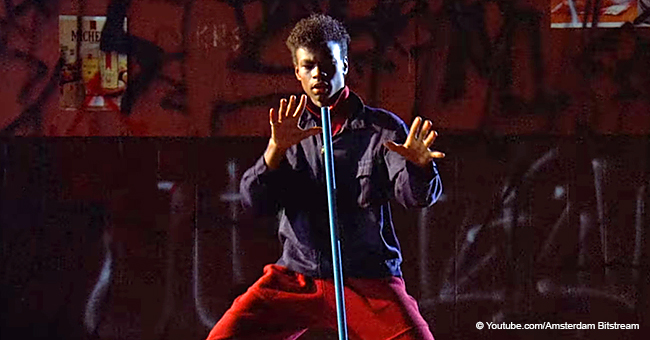 Remember Turbo in '80s Film 'Breakin''? He's Still Dancing & Once Taught Steve Harvey the Moonwalk
Michael Boogaloo "Shrimp" Chambers is better known for his role as Turbo on the '80s dance film "Breakin'." At 51, he still has a huge fanbase and keeps showing off his best moves whenever he has the chance.
Chambers started his career as a dancer at a very young age. He shaped his dance style following inspiration from sci-fi television shows, including the work of Ray Harryhausen and other stop-motion experts.
In 1984, when he was 17, Michael had his big break on film in the breakdancing-themed comedy-drama film "Breakin'." There, he stole the show as Tony Turbo, and his dance scene with a broom is still considered one of the most iconic pieces in a dance-related classic film.
Some people don't know that Chambers was actually who taught Michael Jackson how to moonwalk.
According to "Boogaloo Shrimp," an Amazon Prime documentary on Chamber's life released this year, once that Chambers earned a position in the industry, he was featured on a show on channel 7, and there, he did the moonwalk.
Jackson allegedly saw that show, called the network, and asked for Chamber's contact. Chambers ended up having dancing sessions with Jackson and other dancers. In the end, the moonwalk became Michael Jackson's signature move.
Chambers wasn't bothered though. He went on to reprise his role as Turbo on "Breakin' 2," where he starred on another epic scene known for fans as the "no gravity bedroom scene." He was also featured on several music videos, including Lionel Richie's "All Night Long," and Chaka Khan's "I Feel For You."
He was also featured in the 1983 documentary "Breakin n' Enterin'," played "Urklebot" on the TV Show "Family Matters," hosted the TV Show "Fun House," and was featured on the Jerry Lewis MDA Telethon dancing with Jerry Lewis.
These days, Chambers is still a pro in liquid animation dance with his famous popping, ticking and waving. A few years ago, he appeared on Steve Harvey's show and taught him how to moonwalk, taking the chance to show off his abilities on the screen once again.
And last year, TMZ caught with him, making him re-do the broom scene in the middle of the street.
"Michael Chambers will go down in history as being one of the iconic innovators of the b-boy and breakdancing culture," said filmmaker Taylor Golonka.
He was allegedly in talks to do a second sequel to "Breakin'" but nothing has been confirmed.
Please fill in your e-mail so we can share with you our top stories!