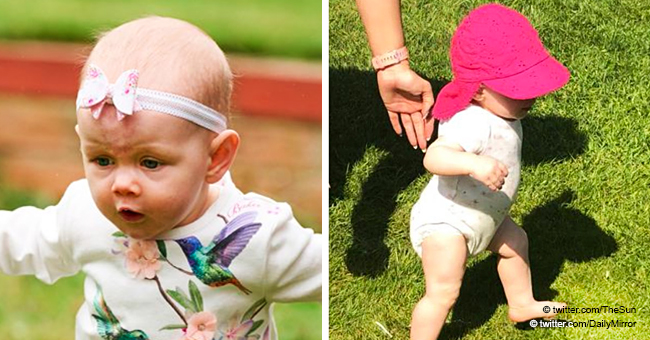 First-Time Mother Astonished after Her Daughter Started Walking at 6 Months
A 6-month-old baby surprised everyone when she started walking despite being so young. She could be the youngest baby that has ever achieved that milestone.
Grace and Ryan, both 29, from Colchester, Essex, could not believe what they saw when their little daughter Freya Minter, now seven months old, began to take her first steps without help, even though she had not even learned to crawl.
This is the first daughter of the couple and the mother tells that now she must constantly watch the little girl who does not stop running around the house since she started walking on March 25.
Babies usually start walking when they are about a year old so that little Freya is far ahead of her peers and could be one of the smallest babies that have started walking.
"Freya was able to stand while holding our fingers to maintain balance when she was four months old," the mother explained. "We could tell she was desperate to walk from then but it wasn't until she was six-months-old that it actually happened."
Freya's parents described the moment in which she took her first steps without holding on to anything and how her face lit up by what she had managed to do.
"She had the cheekiest grin, Ryan and I couldn't believe it," said the first-time mom. "At first, I thought it was a fluke, but then when she continued to walk a few steps here and there, I was amazed."
According to her parents, Freya has completely missed the stage of crawling and although she walks with enough balance, she still has a hard time avoiding obstacles on the road and simply tries to pass over them.
Although it is surprising that a 6-month-old baby can walk, her parents have admitted that now she can't be unsupervised for a second, since she is very fast and adventurous.
Grace explained that her daughter never used seated walkers or push-along toys to learn how to walk and that she simply learned by herself.
As it is the first daughter they have, they did not know how precocious her daughter was until other people saw her, "she is our first daughter, so we do not know anything different, but we are very proud of her".
In 2010, Xavier King from Cambridge also started walking at 6-months-old. His parents knew that he was a fast learner since he started sitting without support at just 3-months-old.
"The only problem now is that I can't leave him alone so have had to buy a playpen so he doesn't get into any mischief," said Xavier's mom.
Baby's surprises us every time, like 2-year-old William Stokkebroe, who astonished everyone at a party when he suddenly got up and started dancing in the middle of the dance floor to the rhythm of Elvis Presley's hit song "Jailhouse Rock".
It was so good that the 'Dancesport' studio recorded a video and has been using it as a way to prompt people to join them with the catchphrase of 'it is never too early to start.'
Please fill in your e-mail so we can share with you our top stories!