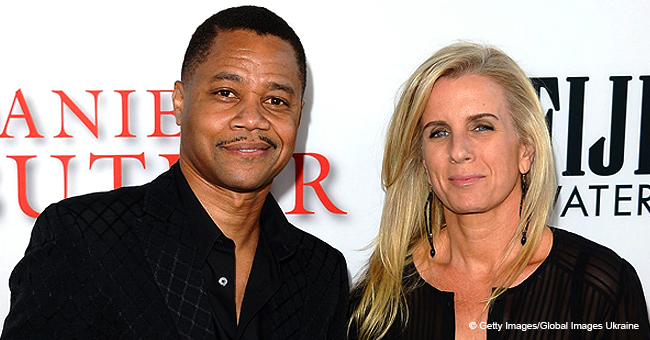 Cuba Gooding Jr. & Estranged Wife Are Divorcing but They Have a Beautiful Little Daughter
Cuba Gooding Jr. and his estranged wife, Sara Kapfer, are reportedly making moves to finalize their 2-year-long divorce, but even after the marriage is legally dissolved, evidence of their love will remain in the kids, including their 13-year-old daughter, Piper.
Cuba Jr. married his high school sweetheart, Sara, in March of 1994 and they have three children; sons Spencer, 24, and Mason, 22; and daughter Piper.
A FRIEND FOR PIPER
Being the baby of the house, Piper enjoys the attention of her family members, but the teenager does not appear to be spoiled.
In 2018, Piper was stunned to receive a surprise gift from her mom and brothers. Spencer took to Instagram with videos that capture the shock on his sister's face as she realized she was now a pup owner.
FAMILY FOREVER
One of the heartwarming clips shows Sara holding the black-and-white puppy while standing on a path Piper would eventually pass by with her friends.
The teenager could not hold back tears as she hugged her new canine buddy and immediately started cuddling him. She and her friends also posed with him for pictures.
"We surprised my sister with a dog!" Spencer wrote in the caption. "Scout is the newest member of the Gooding family and already the coolest hands down."
Several photos from the big brother's account also show Piper hanging out with her mom and siblings.
END OF AN ERA
Piper is the only minor among Cuba Jr. and Sara's kids, and in the actor's 2017 divorce filing, he asked to be given joint legal and physical custody.
It was Sara who first filed for legal separation in 2014 before Cuba Jr. initiated divorce three years later, citing irreconcilable differences.
KIDS FIRST
Back in January, "The Blast" reported that Sara recently handed over her income and expense reports to her estranged husband's attorneys, a sign that both parties are getting closer to finalizing the process.
Despite the circumstances, the "Jerry Maguire" star puts his children first and said as much during a December 2017 appearance on the "Steve TV Show."
When show host pointed out that Cuba Jr. is back in the dating game, he replied:
"Officially, I'm still married. It's just, you know how marriages go; sometimes you have to take a break or two. …I took my wife on a date the other day; took her to see a movie the other day. We got kids, man. We got to keep this together, strong, you know? That's how I see it."
MOVING ON?
The Oscar winner is all about the kids, but it appears he's also moved on romantically.
Cuba Jr., 51, has been spotted several times getting cozy with Claudine De Niro, the estranged daughter-in-law of actor Robert De Niro's son, Raphael. The actor and Robert co-starred in the 2000-released film, "Men of Honor."
Rumors linking Cuba Jr. and Claudine first surfaced in 2018 and in March 2019, the couple was seen having fun at the Miami Beach.
Whatever happens between Sara and Cuba Jr., it looks like their kids can count on parents who love and cherish them.
Please fill in your e-mail so we can share with you our top stories!