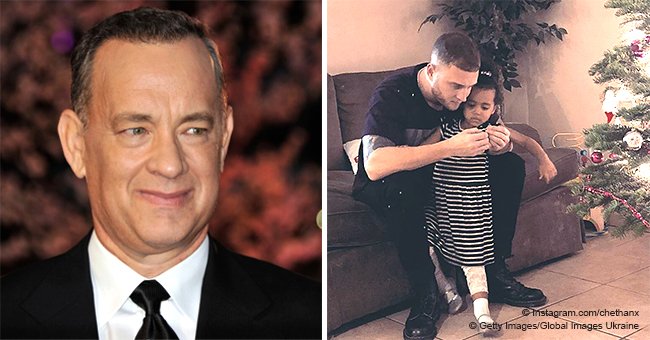 Tom Hanks' Granddaughter Is 3 Now and the Reason Why His Son Is Three Years Sober

Chet Hanks shared a rare picture of his three-year-old daughter. It's also the three-year mark of his sobriety.
Tom Hanks' son spread warmth with a picture of him and his beautiful biracial daughter, Michaiah. It reminded fans of his determination to stop taking drugs thanks to the little one.
In the picture, the father-daughter duo sat in a room next to a decorated Christmas tree. Another picture showed Michaiah adorably kissing her father on the cheek as he held her up.
Michaiah is the daughter of Chet and his former girlfriend, Tiffany Miles. The son of the famous actor had a troubled past before his daughter came along.
In June 2018, Chet spoke to Entertainment Tonight about the big changes he made in his life.
He said at the time:
"It was the prospect of having a kid, and I knew that in nine months there's gonna be a baby here. That gave me the motivation to be like, 'OK, I've had my time now, and I need to move on.'"
Chet moved on from other criminal activity. His past includes trouble with British police when he allegedly trashed a hotel. Additionally, he received backlash for using a racial slur on social media.
The budding musician and actor put this behind him when Michaiah came along. His formidable actions have led to greater success in the industry since then.
He explained:
"There's a part of you that knows that you need to make a change but you can't really shut that door on your life and just move on to a new chapter. For me, it took something drastic happening, like becoming a father, for me to make that change."
The change has allowed Chet's daughter to spend more time with her famous grandfather and her grandmother, Rita Wilson.
It was not until February 2017 that the name of Tom's granddaughter was revealed to the public, three months after Chet made it known that he was a father.
Chet is the third child of Tom, who has four other grown children. Colin, Elizabeth, and Truman are also successful in their respective careers.
We wish Chet continued success in his ongoing journey of sobriety. His little one will surely remain as an inspiration to himself and his family.
Please fill in your e-mail so we can share with you our top stories!