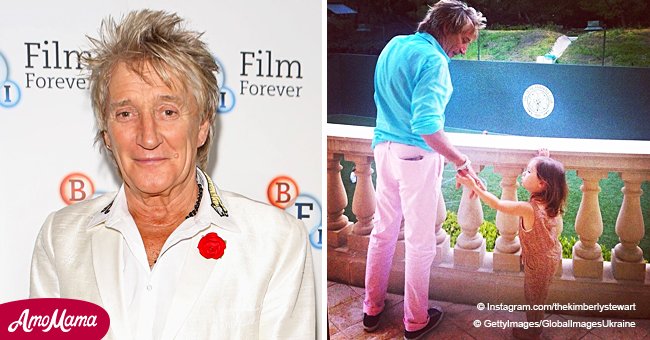 Sir Rod Stewart's First Grandchild Is All Grown up and Shares Her Grandpa's Passion for Music
Sir Rod Stewart is a legend in the music industry and is known for his songs such as "Maggie May" and "Young Turks." His granddaughter is following in his musical footsteps in her unique way.
Rod has eight children, and his first grandchild was born in 2011. Her name is Delilah, and she is the daughter of Kimberly Stewart and actor Benicio del Toro.
The singer was at his daughter's side when she gave birth and had incredible joy at the event. While she is being raised by her mother, she looks a lot like her famous father.
DELILAH'S DREAMS
Stewart is very involved in his granddaughter's life and plays a noticeable role in her upbringing. She has already learned a lot from the talented artist.
Delilah has a great passion for music and often attends concerts and musical festivals. She has taken her interest further by learning how to play various musical instruments.
When asked about her father and daughter's relationship, Kimberley said:
"Dad is very involved and is also the peacemaker, although sometimes he can be the s**t stirrer! [...] He's got a very mischievous sense of humor."
LOVE AND MARRIAGE
Rod is 73 years old and is married to tv personality Penny Lancaster, who is 47 years old. The almost 30 year age gap does raise some eyebrows, but they seem to be happy and in love.
In April last year, the couple were spotted attending "The Tina Turner Musical" at the Aldwych Theatre in London.
They cuddled up to each other and seemed to be oblivious to the crowds around them. Later on in the night, he surprised her by joining Tina Turner on stage for a duet.
FACTS ABOUT ROD
While his songs are well known, many people do not know the man behind them. For example, it is a little-known fact that Rod Stewart was the youngest of five children and that he was born during World War Two.
He has released 30 solo studio albums during his singing career. These along with living performances and other related work has given him an estimated net worth of $235 million.
Before he pursued a singing career, Rod worked in many different jobs including the family shop, like a silkscreen painter, a newspaper delivery boy, and at a cemetery.
Please fill in your e-mail so we can share with you our top stories!