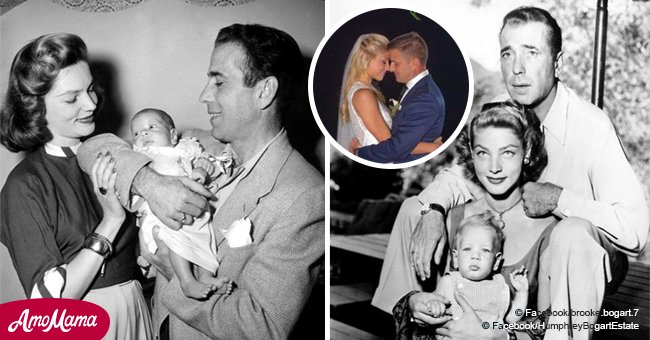 Humphrey Bogart and Lauren Bacall's Only Granddaughter Grows up Into a Beautiful Lady
Humphrey Bogart and Lauren Bacall's granddaughter, Brooke, bears a striking resemblance with her grandmother.
Brooke, the Hollywood royalty couple's only granddaughter has grown into an attractive woman like Lauren, as shown in a photo posted on Facebook.
Brooke ventured into modeling and enjoyed quite a success. She graced the cover of Page Six magazine when she was only years old.
She proved that she is not just the granddaughter of one of the most famous Hollywood couples. She proved that she can have her own place in the entertainment industry by being a model, having signed with Major Model Management.
ALSO INTO SPORTS
But Brooke, who tied the knot with her fiance two years ago, is not just interested in modeling. She is also the sporty type. In fact, she also worked towards becoming a professional football player.
Brooke is the daughter of actor Stephen Bogart, who is the son of Humphrey Bogart and Lauren Bacall.
Before their breakup, Humphrey and Lauren had a whirlwind romance that resulted in the births of Stephen and daughter Leslie.
Stephen has three children from two failed marriages: sons Richard and Jamie, and daughter, Brooke.
Stephen was born in 1949, during the filming of "Tokyo Joe". He enjoyed success as an author and biographer. He also hosted a television special about his father on Turner Classic Movies.
A CULTURAL ICON
Humphrey, who died in 1957, was a cultural icon known for his numerous films from the Classical Hollywood era.
The American Film Institute ranked him as the greatest male star of American cinema for his brilliant acting performances.
Humphrey started his career in Broadway shows after World War I.
He became a household name with his performances in "High Sierra" and "The Maltese Falcon".
He and Lauren starred together in To Have and Have Not (1944) and ended up tying the knot.
Please fill in your e-mail so we can share with you our top stories!