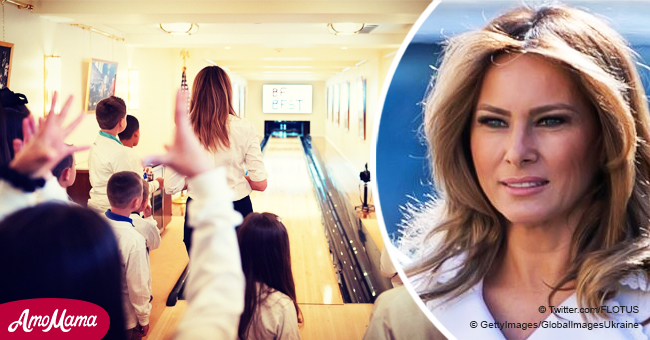 FLOTUS Hosts a Special Event for Secret Service Agents' Children
Melania Trump has hosted a special event for the children of her Secret Service agents at the White House. She wanted to show her appreciation for the work done by their parents.
The First Lady invited the children of her Secret Service agents the White House. She threw a bowling party at the newly-renovated bowling alley in the White House.
Melania Trump gave the children Be Best jumpers to wear as part of her campaign. Be Best focuses on the well-being of youth, advocating against cyberbullying and drug use.
She took to Twitter to share a glimpse of the event. In the caption of the images was a sweet message to her Secret Service staff.
"Wonderful to host children of our @SecretService agents today in the newly renovated bowling alley in the residence of the White House! My family appreciates all that Secret Service does to keep us safe. Thank you! #BeBest," read the tweet.
Twitter users loved the gesture she made to her staff. Many commended her for giving them the recognition they deserved.
"What a wonderful way to recognize these dedicated individuals and their families," said one commenter. Another added, "They are our heroes. Thank you for putting them and their families in the spotlight!"
The post comes just days after the First Lady celebrated her 49th birthday. She hosted an official dinner with the Prime Minister of Japan and his wife.
However, the most controversial part of her birthday was the image the White House chose to post on their Twitter during their birthday wish. Melania sat all alone on a sofa surrounded by photographers who were focused on someone else.
The picture doesn't include her husband US President Donald Trump or son Barron Trump. The First Lady is also not siling in the picture.
"Why would you pick this photo?" asked one Twitter user. Another added: "Who picked this disaster photo? Are you serious?"
A third said, "I don't understand why the White House would post such a sad, lonely photo of Melania for her birthday."
Please fill in your e-mail so we can share with you our top stories!