Barack Obama 'Humbled' by 3.5-Mile Road in LA Officially Renamed after Him
Thousands of people attended the renaming of a street in a historic black Los Angeles neighborhood, in honor of the country's first African American president on Saturday.
The renaming of "Rodeo Road" to "Obama Boulevard" hold special meaning to the residents of the Baldwin Hills/Crenshaw neighborhood.
Paying homage to a great President as we move around the @CountyOfLA. #ObamaBoulevard @MetroLosAngeles tap card is on its way! #ObamaBlvd pic.twitter.com/2hZW2oz3iY

— Mark Ridley-Thomas (@mridleythomas) May 3, 2019
Not only did Barack Obama hold his first campaign rally in Los Angeles at Rancho Cienega Park on Rodeo Road in February 2007, but it also reminds residents that nothing is impossible, as City Council President Herb Wesson tweeted after the renaming:
It's official - Rodeo Rd. is now #ObamaBlvd. For every child who will drive down this street and see the name of the first Black President of our country, this boulevard will serve as a physical reminder that no goal is out of reach and that no dream is too big. pic.twitter.com/uxVvc9wipZ

— Herb J. Wesson, Jr. (@HerbJWesson) May 5, 2019
The neighborhood had honored previous presidents in the same way, as it is also home to Jefferson Boulevard, Washington Boulevard, and Adams Boulevard.
The ceremony on Saturday drew thousands of people which included neighborhood residents, former Obama administration officials, activists, Wesson, and Mayor Eric Garcetti among other politicians reportedly attended the event, according to the LA Times.
During the ceremony, a letter got read on Barack Obama's behalf wherein he expressed his appreciation for the honor bestowed on him.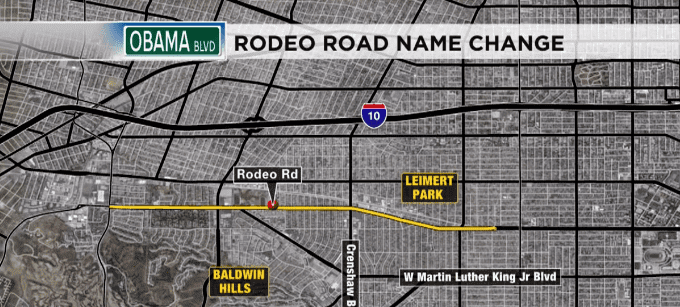 "While Michelle, Malia, Sasha and I are so humbled by this day, we're still mindful that this is not about us," Barack wrote. "This is about this neighborhood's next generation and all we want for them."
To members of the community, the name change had a significant impact as one woman told the Times, "This is history. This is our neighborhood — a predominately African American neighborhood.  It's incredibly significant that we get to name this street after our president in our neighborhood."
The co-founder of the Black Lives Matter Youth Vanguard, advocate Thandiwe Abdullah were among those that attended the ceremony on Saturday.
Twelve years ago she held bake sales and sold lemonade to send money to Barack's nascent campaign and told the Times that it means more to her than just a street name as she said:
"For me, being 15 years old, a black child looking up and seeing the name of the first black president in my own 'hood — that gives me hope. That gives me the inspiration to step into my fullest purpose, and I know it does for so many others who look like me."
Saturday's renaming ceremony added to a long list of things named after the former president of the United States.
Apart from street names not only in the US but also in countries like Spain and Tanzania, Barack got honored in the scientific names of at least 14 different species of animals, ranging from sea slugs to bees.
The highest amount out of all the former presidents. Schools in fourteen states are also named after Barack. On Barack's birthday on August 4, 2009, the highest point of the Shekerley Mountains of the island of Antigua got renamed, Mount Obama.
In April this year, Barack Obama also reached out to the neighborhood when one of their own, Nipsey Hussle got shot outside his clothing store. The famed rapper actively worked towards the betterment of the community, and his funeral, which got held on April 11 at the Staples Center drew thousands of mourners.
Even though Barack couldn't be there himself, Karen Civil read a letter during the service on behalf of former president Barack Obama in tribute to the late rapper.