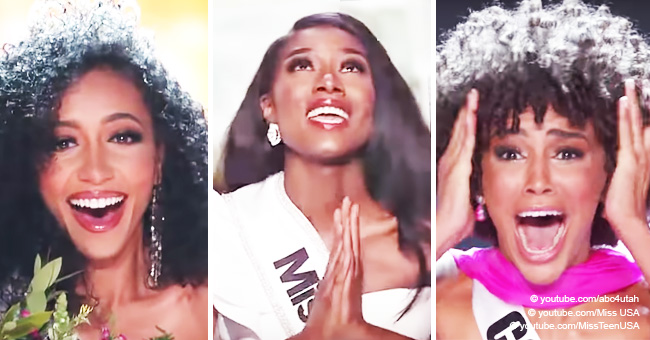 Miss America, USA & Teen USA Titles Held by Black Women for First Time
For the first time in history, the winners of the United States' three top beauty pageants are all African American women of heart-stopping beauty.
After decades of discrimination, African American women have finally come into their own.
For the first time, all three winners of America's top beauty pageants are Black.
MISS USA, MISS AMERICA AND MISS TEEN USA ARE AFRICAN AMERICAN
2019 has seen three African American women sweep up the crowns for America's three most prestigious beauty pageants: Miss USA, Miss America, and Miss Teen USA.
These pageants were first won by black women in recent decades when Vanessa Williams won the Miss America title in 1984, Carole Gist won Miss USA in 1990, and Janel Bishop won Miss Teen USA in 1991.
THREE AFRICAN AMERICAN WOMEN MAKE HISTORY
The African American community saw the beauty of black women celebrated when Cheslie Kryst, 28, won the Miss USA contest, and then Kaliegh Garris, 18, won Miss Teen USA.
This breakthrough comes at a time when racial tensions are at an all-time high
A POWERFUL SYMBOL FOR AFRICAN AMERICAN WOMEN
Cheslie Kryst, and then Kaliegh Garris joined Nia Franklin, 25, who was crowned as the 2019 Miss America in September 2018. For the first time, little black girls will see African American women as the most beautiful in the land.
"It is important to little brown and black girls to see three strong figures, three strong women, African-American women that are doing so much great work. People will argue that race doesn't matter. But race does matter in America, because of the history, because of slavery," said Nia Franklin.
LEADERS OF THE COMMUNITY PRAISE PAGEANT WINNERS
Prominent African American women such as Halle Berry and Senator Kamala Harris, who is vying for the 2020 Democratic Party presidential nomination, spoke in praise of the three winners.
"Nia, Cheslie, and Kaliegh: you are trailblazers, creating your own path on your own terms," said Senator Kamala Harris.
This breakthrough comes at a time when racial tensions are at an all-time high, with incidents of racial discrimination spreading throughout the country.
THE FIRST AFRICAN-AMERICAN BEAUTY QUEEN
Cheslie Kryst, Kaliegh Garris, and Nia Franklin are following in the footsteps of Vanessa Williams who became the first black woman to win the Miss America title in 1984.
Williams was crowned Miss America 1984 in September 1983 but was forced to abdicate her title when scandal arose when Penthouse magazine bought and published unauthorized nude photographs of her.
In September 2015, when Williams served as head judge for the Miss America 2016 pageant, former Miss America CEO Sam Haskell made a public apology on behalf of the pageant for the pressure that resulted in her abdication.
Please fill in your e-mail so we can share with you our top stories!