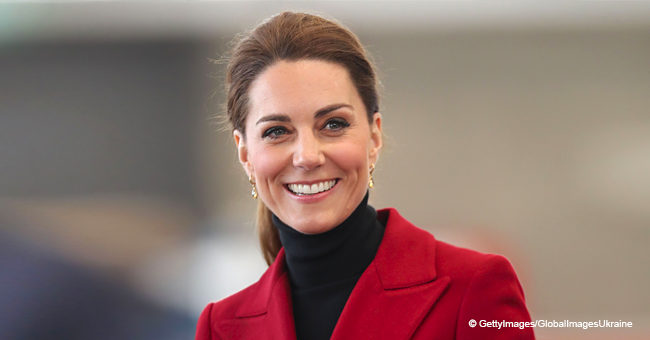 Kate Middleton Visits North Wales in a Stunning Previously Worn Red Blazer
While the media focuses on the latest royal baby, it is business as usual for the Duke and Duchess of Cambridge. Their busy schedule took them to North Wales, where Duchess Kate stunned with her red outfit.
37-year-old Kate Middleton arrived in North Wales the morning of May 8 for an official visit alongside her husband, 36-year-old Prince William, and once again, Middleton was praised for her impeccable sense of style.
The royal couple's first stop was at the Caernarfon Coastguard Search and Rescue Helicopter Base, and the Duchess' choice of outfit immediately drew attention.
A RECYCLED LOOK
The strong point of Middleton's ensemble was a red double-breasted blazer from the Philosophy label, designed by Lorenzo Serafini, with an estimated cost of $990. She paired it with a black polo-neck, tight black jeans, and black heeled boots.
Royal watchers noted that the mother-of-three's ensemble was nearly identical to the one she was seen with in 2017 when she visited the RAF Wittering.
While Middleton recycled her red blazer over a black layer for her North Wales tour, she made small variations to the look on this occasion, changing her high boots for heeled ankle boots, and adding gold drop earrings as accessories.
And while in the previous opportunity she had her hair loose, this time she styled it in a ponytail, which gave her a kind of sporty and youthful appearance.
As the day progressed and the husband and wife moved on to more physical activities, Middleton ditched her fancy blazer for a more practical coat, adding brown flat boots to join William in a walk on the beach.
MEETING OLD FRIENDS
During the North Wales visit, William got to meet his old friends from the local helicopter rescue team, with whom he worked from 2010 to 2013 as a pilot, a job he admitted to missing.
"It was great. It was a real honor and privilege. He's a very nice guy, very engaging, very professional," recalled Rich Taylor, who use to be part of William's former team and was happy to meet him again.
"He worked very hard obviously to keep a balance in the world's he's within. He was outstanding in his role as a pilot," Taylor added.
ON BABY SUSSEX
On May 7, Middleton addressed the birth of Meghan Markle and Prince Harry's first child Archie Harrison when talking to reporters in London.
"It's really exciting for both of them," she told reporters, before admitting that "these next few weeks, it's always a bit daunting first time around, so wish them all the best," she said.
"It's such a great time of the year to have a baby. Spring's in the air, so it's really great. As William said, we look forward to meeting him," Middleton added. William also had supportive words for his younger brother and sister-in-law.
"I wish him all the best, and I hope the next few days they can settle down and enjoy having a newborn in the family and all the joys that come with that," the oldest child of Princess Diana said.
Please fill in your e-mail so we can share with you our top stories!