Kirsten Vangsness of 'Criminal Minds' Shares a Touching Photo with Co-Stars Amid Show Ending
Kirsten Vangsgress, one of the stars of the hit TV show, Criminal Minds posted a heart-breaking picture on Twitter, which confirmed that the show was entering its final season. 
The photo in which the actress, who plays Penelope Garcia in the series was taken with some of her co-stars stars and is captioned, 'Last table read senior-itis and it's all over-itis'
Fans and followers of the show took to the Twitter to express their dismay, many questioning why it has been cancelled and expressing just how much they will be missing the show.
Last table read senior-itis and I can't believe it's over -itis. pic.twitter.com/J7KNTXZIEW

— Kirsten Vangsness (@Vangsness) May 2, 2019
Kirsten has been a fan favorite since she first appeared on Criminal minds. Producers had initially planned for her character to feature in just one episode, but viewers received her so well that she was given a permanent role. It is no surprise then that her fans have reacted with so much passion.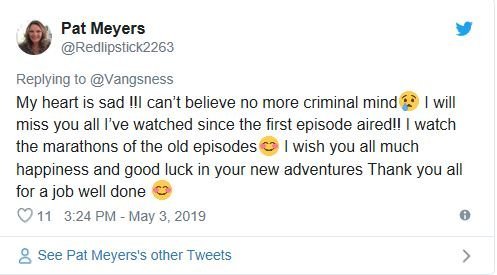 According to Popculture.com, Amy Reisenbach, CBS' EVP current programs, stated: ''It is the quintessential CBS show. We are so proud to have aired it. It speaks to everything we do best, which is air quality television. It's been successful not only on air but online, in syndication, internationally for ABC (Studios)."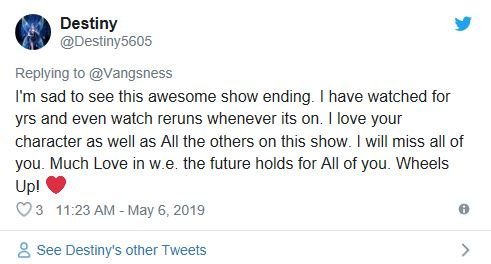 Vangsness' co-star, Matthew Gray Gubler also took to Twitter to voice his heartbreak at the show's ending, posting a series of black and white photos in which the entire Criminal Minds cast can all be seen smiling.
In his tweet he states, ''day 4 of the last C.M 4 ever. (based on our hands you can probably profile that we don't want to let each other go)''
Criminal Minds' executive producer and showrunner, also weighed in, explaining to Deadline, "In some ways, the series has always felt like the little engine that could." She then went on to thank CBS for being "a great home for a very long time."