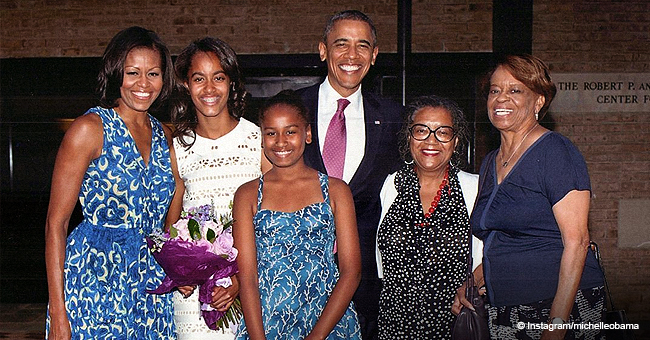 Michelle Obama Posts Rare Family Pic & Sweet Pre-Mother's Day Message
Ahead of Sunday's Mothers' Day celebration, former First Lady Michelle Obama has shared a never-seen-before family photo accompanied by a heartwarming and inspiring message about women across the world.
It's never too early to celebrate women and Michelle is doing just that with a recent Instagram post where she honors the women in not only her life but also those that are hardly recognized.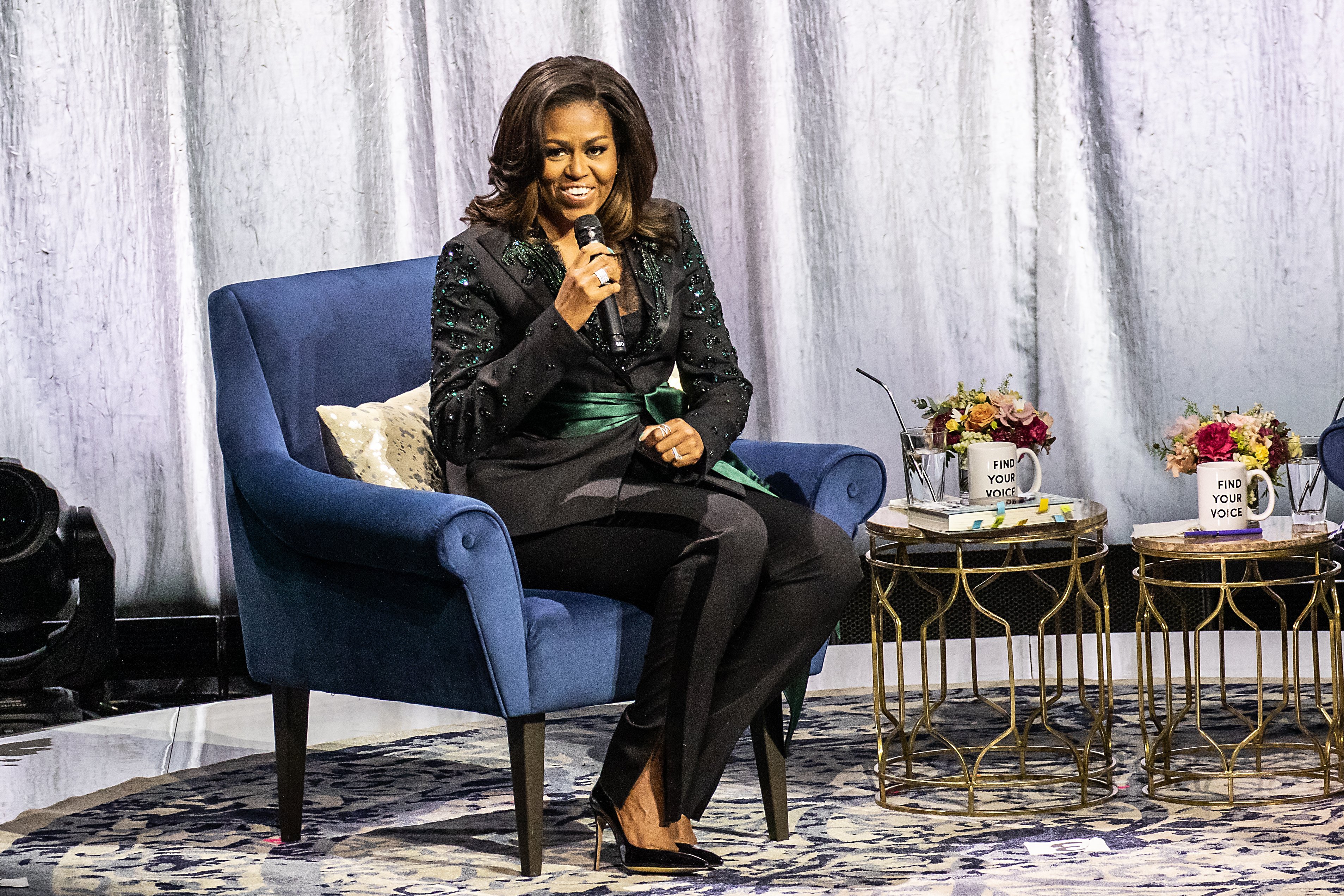 Michelle Obama at the Oslo Spektrum on April 11, 2019 in Oslo, Norway. | Photo: Getty Images
In doing this, the Chicago native shared a family picture that seems to have been taken a long time ago but is only just now being released.
Michelle looked adorable in a floral blue dress and was flanked to the left by her older daughter, Malia, former president Barack Obama, their younger daughter, Sasha, a woman identified by the Daily Mail as the girls' godmother Eleanor Kaye Wilson, and Michelle's mom, Marian Robinson.
All six people in the picture wore broad smiles as they posed for the photo.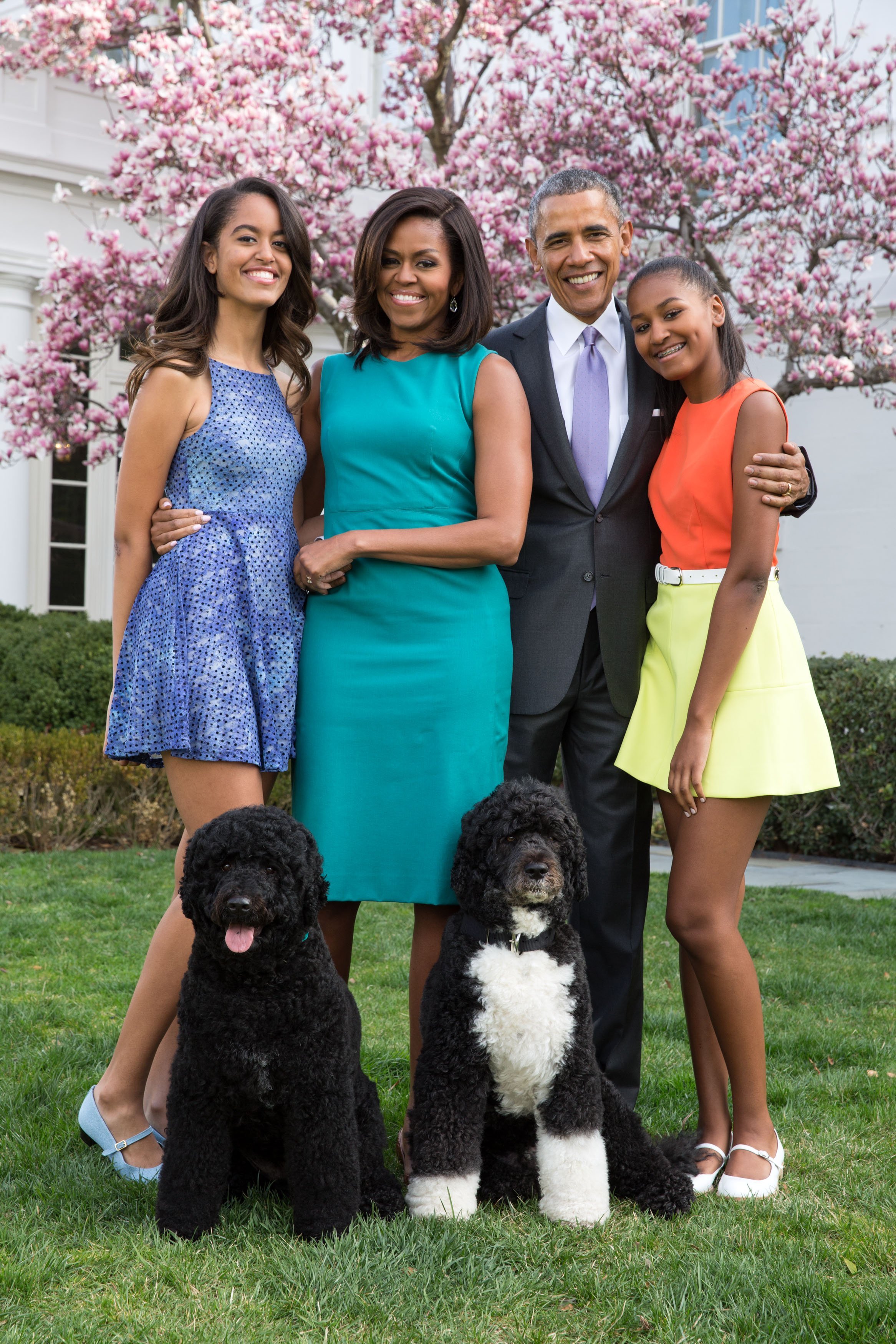 Barack Obama, Michelle, Malia & Sasha pose for a family portrait with their pets Bo and Sunny at the White House on April 5, 2015 in Washington, DC. | Photo: Getty Images.
"As we prepare for #MothersDay on Sunday, I wanted to take a moment to shine a light on those women in our lives who may not be our mothers, but have nonetheless played an important role in nurturing us," Michelle began in the caption.
'She's been there to help with mealtime, craft time, been to all of our events over so many years—a wonderful friend and confidant to my mother.'
The "Let's Move!" initiator then proceeded to appreciate and extend gratitude to some of the women who have impacted her life, including her grandmother, aunt, and college mentor.
"I've been grateful to be surrounded by so many strong, intelligent, warm-hearted women who, along with my mother, have made me who I am," Michelle continued, adding:
"They include my soft-spoken grandmother LaVaughn, whose work managing a Bible book store showed me some of my first glimpses of a woman in charge. I sparred with my Aunt Robbie, who lived below us, during piano lessons—but her teaching showed me the importance of hard work and preparation, and she was always there for me when I needed her most. My mentor at Princeton, Czerny, saw potential in me and did her part to get me to step outside of my comfort zone—to be a little more bold, a little less cautious."
The 54-year-old also shined the spotlight on her mother's friend and godmother to her daughters, Eleanor. According to the Daily Mail, Eleanor would often watch Malia and Sasha when their father was busy on the campaign trail, and she even created a Bible study group to pray for him.
"She's sweet-hearted and deep-rooted, a second mother or grandmother for all four of us—Malia, Sasha, Barack, and me," the "Becoming" author continued in her pre-Mothers' Day tribute.
"She's been there to help with mealtime, craft time, been to all of our events over so many years—a wonderful friend and confidant to my mother. We love her, just like we love so many supportive women whose stories and contributions often go unrecognized, but who deserve just as much appreciation and love this time of year."
"So if there's a Mama Kaye or a Czerny, a Grandma LaVaughn or an Aunt Robbie in your life," Michelle concluded. "Make sure to show them some love this weekend, too."
Here's wishing all the amazing women out there an early Happy Mothers' Day!
Please fill in your e-mail so we can share with you our top stories!