Eddie Murphy's Daughter Bella Is Beautiful in Her Blue Prom Gown
Bella Zahra Murphy, the 17-year-old daughter of famous comedian and actor Eddie Murphy, posed next to her father wearing a beautiful blue prom dress.
Earlier this month, Nicole Murphy, Eddie's ex-wife and mother of five of his ten children (including Bella), took to Instagram to share a slideshow of Bella right before heading to prom.
In the first pic, the 17-year-old girl appeared looking directly at the camera while smiling. She was rocking pigtail buns and her only the upper section of her gown was visible.
POSING WITH HER FATHER
Out of all four images in the slideshow, the one that attracted more attention was the one portraying Bella posing next to her father. Apart from the fact that her stunning iridescent blue and purple dress was displayed in detail, it showed how similar she and Eddie look.
The actor opted for a comfortable outfit as he was wearing flip flops, grey sweatpants, and a matching hoodie while posing next to his daughter and smiling at the camera.
SHOWING PRIDE FOR HER DAUGHTER'S MILESTONE
In the caption of the slideshow, Nicole wrote, "My beautiful baby girl heading to Prom. Wow! [Bella] you look absolutely gorgeous," followed by #mybabygirl, #prom, and #stunning.
Bella also shared photos before the prom party on her Instagram but, instead of uploading those with her family, she shared only two in which she was posing next to her date, a young man named Ollie Walters.
DIGGING INTO EDDIE'S ROMANTIC LIFE
Eddie's romantic life has made several headlines, especially because he has had ten children so far. In late November 2018, he welcomed to the world his tenth child, a son named Max Charles Murphy.
Last Christmas, Bria, one of his daughters, uploaded an image on her Instagram page showing Eddie's ten children together. In it, everybody was in front of a staircase sharply dressed for the occasion.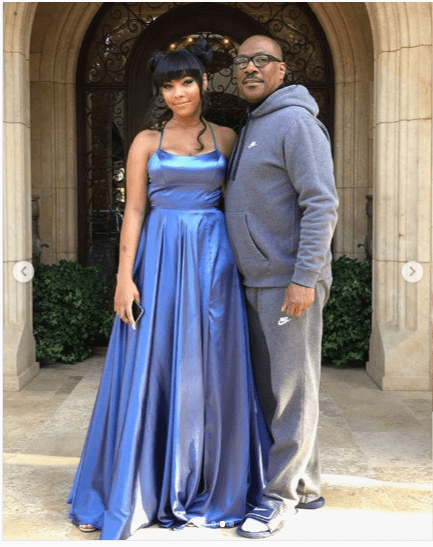 The patriarch, who was holding onto his daughter Izzy Oona, wore his trademark turtleneck while his fiancée, Paige Butcher, had Max in her arms.
BABY JAMES' BIRTH
Butcher, who is originally from Perth, Australia, brought little James into the world on November 30, 2018. He was reportedly born weighing six pounds and measuring 19 inches.
It has been revealed that the couple chose to give Max the middle name of Charles as a tribute to the actor's late older brother, Charlie, who sadly passed away in 2017 following a fierce battle with leukemia.