Rev Run's Son Diggy Simmons Says He 'Just Wants a Wife' in New Tweet
Diggy Simmons, Rev. Run's 24-year-old talented son, recently took to Twitter to share his desire of finding a wife. In response, dozens of women of all ages replied to his request, claiming to be the woman he's looking for.
Diggy Simmons, real name Daniel Dwayne Simmons III, is the fourth child of legendary rap artist Rev. Run from Run DMC and his wife, Justine.
He was first shoved into the spotlight when he was 10-year-old when cameras invaded his home as part of MTV's family reality show, "Run's House" in 2005. He admitted in an interview with KTLA 5 that once he heard about the show, he cried because he just wanted to be more like his friends.
However, Diggy soon got over his initial reluctance and fans were able to fell in love with his antics on the show.
Now, he's no longer the little kid that would run and play around the house with his brother, and he's making sure to let fans know that he's grown up.
The 24-year-old handsome man recently took to Twitter to make a PSA about wanting to find a wife, writing:
"I just want a wife and our fly a$$ home filled with rare Scandinavian and Mid Century Modern furniture with African ceramics, and we listen to Brazilian music and Sade in the mornings while we switch off each day cooking some fye sh*t. That's it."
FANS' REACTIONS
In response, female fans of all backgrounds and ages came forward to "apply for the position," even though some had to ask what Scandinavian is, and others went to google Diggy's age just to make sure he's of legal age.
I just want a wife, and our fly ass home filled with rare Scandinavian and Mid Century Modern furniture with African ceramics, and we listen to Brazilian music and Sade in the mornings while we switch off each day cooking some fye shit. That's it.

— Diggy (@diggy_simmons) May 9, 2019
Read some of the tweets below:
You have these females thinking they know what Scandinavian and mid century furniture is that's all there about to Google 😂 don't tell em cuz alot of fakes are gonna come out you only have to tell one person who you want and he hear you.

— Tai💋💄♊ (@nataiagolson17) May 10, 2019
I want this with you pic.twitter.com/hocfcJuLZd

— kris🍃 (@Kristinxo_13) May 10, 2019
I'm glad you've made up your mind here I am pic.twitter.com/3rFjvwtSRv

— LeadLikeHARRIET ✊🏾 (@isettrends101) May 11, 2019
How old are you now? I'm tryna see something.

— Nakyia 🌷🏝 (@Nakyiaxoxo) May 10, 2019
Quit playing, I've been waiting since I was single digits sir 🥰

— BITCH, do it look like i fight ♐️ (@MalaishaX) May 10, 2019
A BUSY SCHEDULE
Diggy didn't respond to the applications, which is understandable considering how busy he is these days.
He's set to return to Freeform's "grown-ish" as a series regular, reprising his role as Doug, the fan-favorite boyfriend of Chloe Bailey's character Jazz.
"I'm thrilled to be joining as a series regular on grown-ish and to see Doug become an even bigger part of the close-knit gang," Simmons told Billboard last month. "We left off the spring finale with some tension with Doug and Jazz's relationship, but I'm so excited to see where the story goes."
However, despite his compromises in the acting world, music is still Diggy's number one priority.
He just released a music video for his song "Text Me," part of his sophomore album, "Lighten Up."
Talking to Vibe about his music, Diggy revealed that he chose the title of his latest album as a reminder to himself. He said:
"We take our journey seriously, and we put in the work to get to where we want to get to, but I think a lot of the time we focus too much on the end result or getting to the finish line. I feel like in that process of us becoming better people and becoming better at our crafts. We have to lighten up and not be so hard on ourselves in the process of all of that."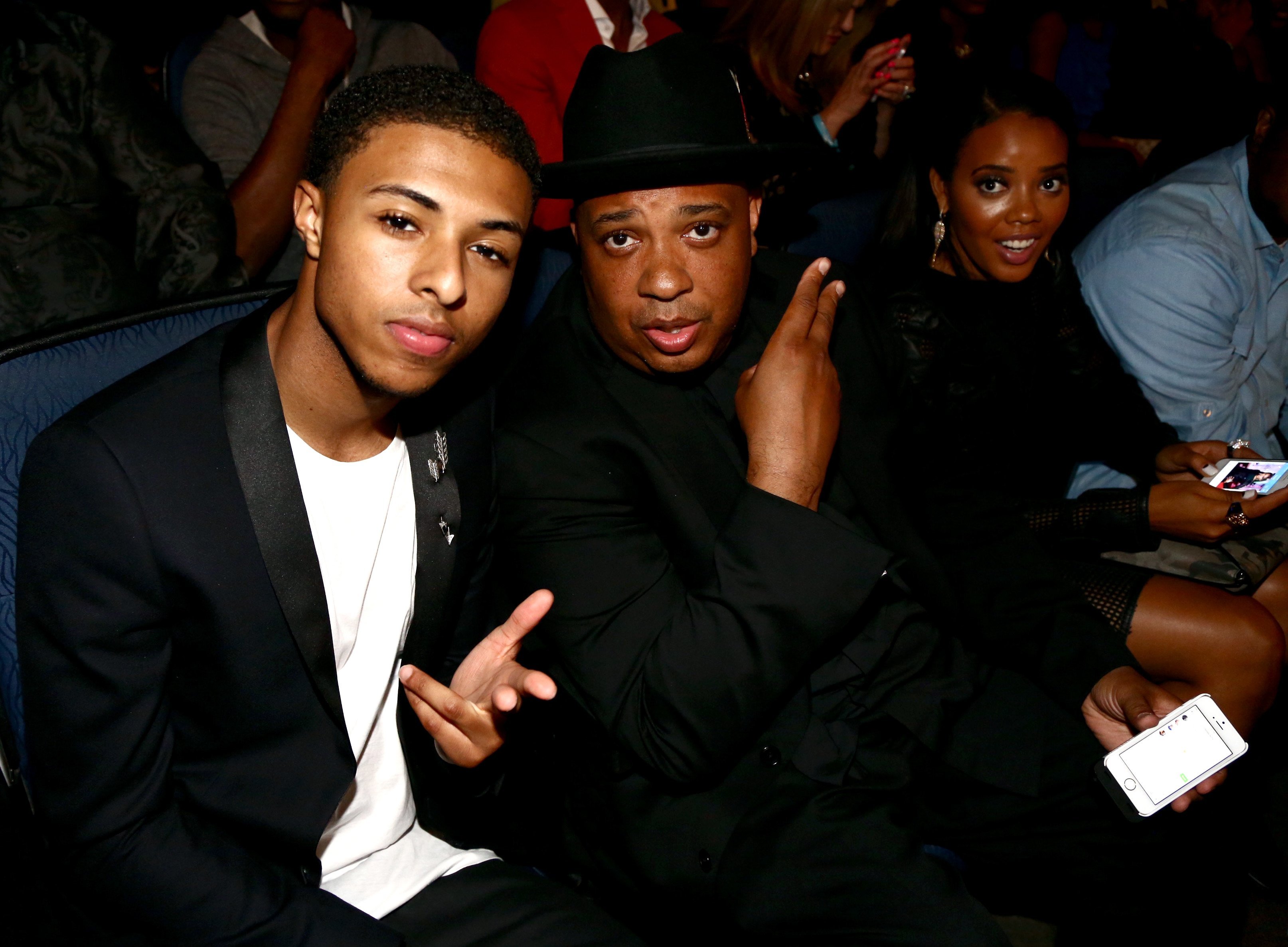 He also mentioned how growing up in a family of rap royalty shaped his creative process. "I think [it affected] what I decide to listen to and maybe some of the things that I grew up enjoying, whether it be music or not," he explained. "My dad has shaped my taste in what I like, and that basically shaped the way in which I make music."
With so much on his plate, is no wonder why Duggy hasn't had time to find himself a nice girlfriend.