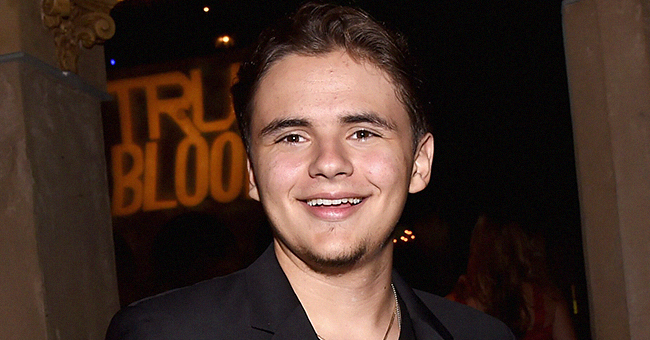 Getty Images
Michael Jackson's Son Prince Shares Rare Family Pics After His Graduation
Michael Jackson's eldest son, Prince Jackson celebrates graduating Cum Laude with a degree in business. The 22-year-old thanked members of his Jackson family for their encouragement.
Prince Michael Jackson is now a college graduate and he had all praises for his family who helped him get to the finish line.
SURROUNDED BY FRIENDS AND FAMILY
The oldest son of the late Michael Jackson dressed in a gown and cap posed for pictures with family and friends and shared these images on his Instagram celebrating the end of his college education.
Among those who attended his graduation was his grandmother, Katherine Jackson pictured with him in the first photo he shared and his cousins TJ, Taryll, and Taj Jackson, sons of his uncle Tito Jackson. Also making a rare appearance was his younger brother, Blanket who also posed with him in one of his pics.
"Honestly I can't tell you if all of it was worth it yet but I am proud of my degree as I believe it is a testament to my dedication and discipline."
GIVING THANKS FOR THE NEEDED PUSH
In his caption, Prince proudly revealed graduating Cum Laude with a degree in business administration at Loyola Marymount College in Los Angeles.
"I met so many people and learned so much that the experience alone is worth it," he adds.
He also humbly thanked people who have made it possible including friends and members of his Jackson family. The 22-year-old who majored in entrepreneurship especially mentioned his cousins TJ, Taryl, and Taj and extended his "biggest thanks" to them for "pushing me to graduate and finish up my degree when I wanted to quit." He also says,
"I wish I could thank everyone that helped me make it to the end but I can't and unfortunately they're not all pictured here."
AN UNCERTAIN FUTURE
Prince was honest to admit his future is unclear despite this achievement.
"Honestly I can't tell you if all of it was worth it yet but I am proud of my degree as I believe it is a testament to my dedication and discipline."
He went on to thank his school for its "education of a whole person and the implementation of Jesuit values" and adds, "I believe they inspire graduates like me to continue to change the world for the better."
WELL-WISHERS
Prince's family showed support by congratulating him and cheering him on in his comments section. TJ wrote,
"I love you Prince. Words can't express. We will always be supporting you. Always. "Dedication and Discipline" ...That right there is where it's at. The world is yours. Dream Big and Impact This World!!!"
The youngest son of Tito also tweeted a photo with the graduate and attached a caption that read,
"Prince, it's been a long road but you did it. Keep learning, keep growing and keep giving back! So so proud of you. I love you."
Taj likewise expressed how proud he was of his cousin.
"So proud of you. You are inspiring me to go back and finish at LMU too."
Prince's aunt LaToya Jackson extended her congratulations and gushed about how he's grown.
"Congrats Prince I'm so proud of you!!! You have grown immensely in such a short time, highly intelligent with great wit! You can do whatever you want in life, the world is now yours!!! Love you"
His uncle Jackie Jackson also took time to drop him a quick congratulatory message.
"So proud of you, Prince! Love you, uncle Jackie,"
A TRIBUTE TO HIS LATE FATHER
Prince's father may not be around anymore to witness his accomplishment but he made sure to keep his memory present during the occasion. He embroidered a quote from the late King of Pop on his graduation sash. The quote read,
"In a world filled with hate, we must still dare to hope. In a world filled with anger, we must still dare to comfort. In a world filled with despair, we must still dare to dream. And in a world filled with distrust, we must still dare to believe."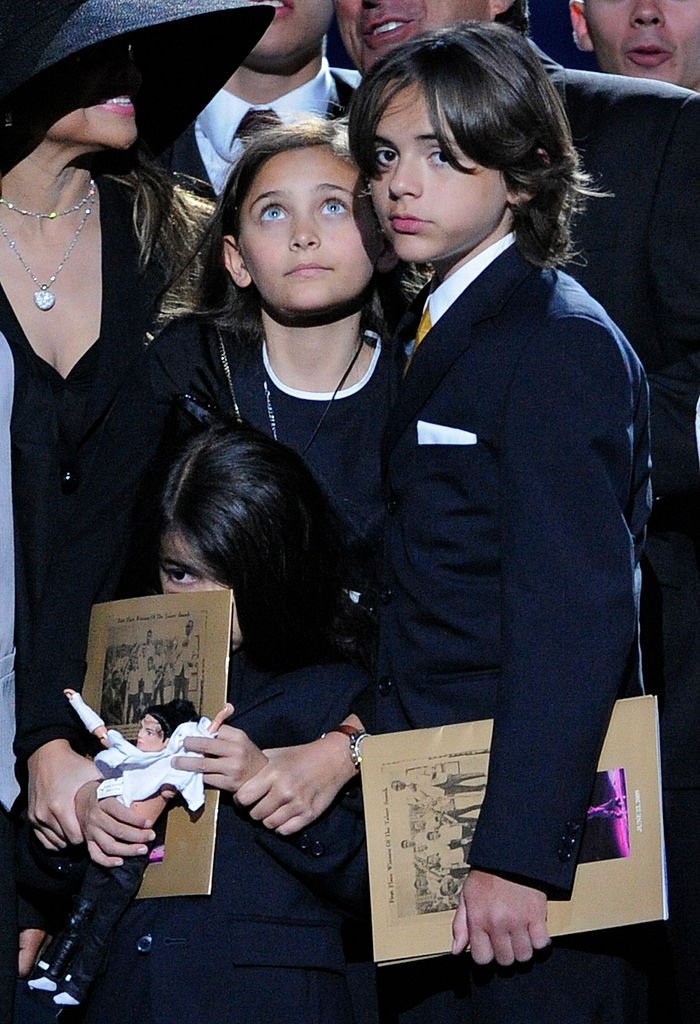 A young Prince Jackson with his siblings Paris and Blanket at the public memorial service for their father, Michael Jackson at the Staples Center on July 7, 2009. | Source: Getty
GRADUATING WITH HIS GIRLFRIEND
Prince graduated with his girlfriend and he made sure to congratulate her in a separate post.
"Congrats to this cutie on graduating," he wrote and added "peep the footwear" to direct his followers' attention to his sandals bearing the words "Kids" and "Life."
Prince has been very careful not to name his girlfriend who he's been seeing for two years now. The first time she came to the public's attention was when he celebrated their one-year anniversary with a commemorative pic. Since then, he would share images of their times together which included a trip to Las Vegas and a date night at Sofitel Los Angeles.
Please fill in your e-mail so we can share with you our top stories!