White Officer Tries to Arrest Black Man in His Own Yard Because He Looks like a Thief (Video)
A black man who stood his ground against a police officer who tried to arrest him is distraught as he calls the officer "racist." 
Caught on video recording, the altercation between Clarence Evans, a Texas citizen and a law enforcement agent goes viral as a result of the story behind it all.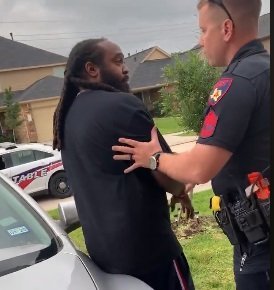 Posting on his Facebook page, Evans is seen in a five minutes video having a heated argument with a Texas deputy who keeps  referring to him as "Quinton." 
In the caption, Evans explains that he was just outside his home, going about his business and watching his kids play when the police patrol car pulled in.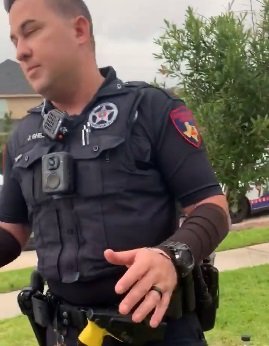 "I'm outside with my son and daughter, watching them play when this racist a** constable from precinct 4 pulls up in front of my house and tells me someone called in about my dog being stolen. I told him that's impossible cuz I have his paperwork plus I have a chip in him," the caption read.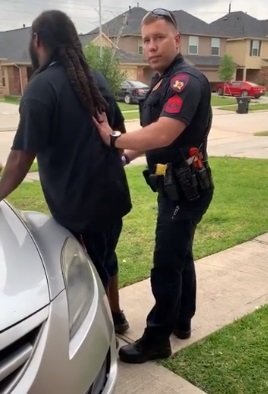 According to Evans, the officer then requested for his ID, and he refused to oblige. At this point, the situation began to escalate.
"...he then says to me "put your hands behind your back Reg," I have never in my life went by that name them he tells I have a felony warrant out in Louisiana and calls me Quintin."
Clarence Evan's refusal to tender his ID is in accordance with the Texas  American Civil Liberties Union Chapter. All the while, during the exchange, a woman who seems to be the wife of Evans and also filming keeps trying to intervene as she gently makes the officer know that he got the wrong person, but he wouldn't listen.
Still narrating in his caption, Evans wrote:
"Then once his partner pulls up he shows me a picture of a black man in his 50s with dreads and think we all look alike."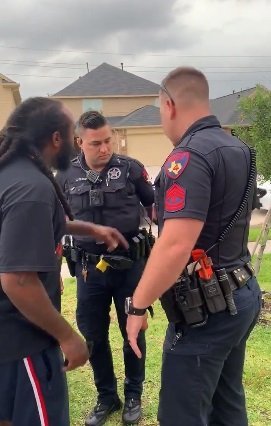 This, of course, did not go down well with the aggrieved man who told KTHX
"My kids were out there watching, I don't want my son to have that memory of my dad being hauled off to jail, and I didn't do anything wrong."
It turned out that the whole confrontation was a case of mistaken identity, but the Houston residence isn't buying it. According to KTRK-TV, he has hired an attorney but is yet to file a complaint against the police department for such misconduct.