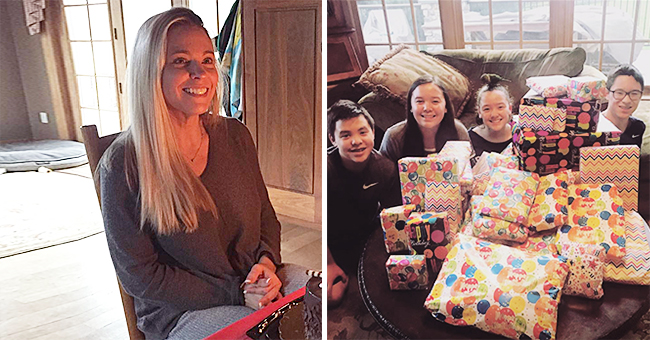 Instagram.com/kateplusmy8
Kate Gosselin Garners Backlash for Her Recent Post about Family and Motherhood
Kate Gosselin faces criticism again after sharing the last family post on her Instagram account celebrating the birthday of her sextuplet children.
The matriarch of the popular reality show, "Jon and Kate Plus 8" again faces terrible criticism after publishing a sweet message of congratulations to her minor children who have just turned 15 years old.
The television star shared an image of four of her children in front of a birthday cake and everyone smiled happily at the camera. But many fans were not happy to see that two children were missing and Kate did not even mention them.
However, Kate knows very well where the children missing in the photo are, both are with their father due to certain differences they have had with their mother. Jon also shared a loving message on Instagram on his children's birthday, but even though not every one of them lives with him, they were all mentioned.
The Gosselins have been in the midst of great controversy over the years, all starting in 2007 when the show Jon and Kate Plus 8 aired. After some unique episodes about their big family, the Gosselins received their own television show that became a sensation.
The Gosselins received sextuplets through IVF after having had a pair of twins just four years earlier. The program focused on how this young family would manage the upbringing of eight children under the age of four.
As the seasons went by, we saw the children grow up and develop their own personality, but we also saw Jon and Kate's marriage fall apart completely.
Kate became more and more controlling as things progressed, while Jon was completely passive or totally defiant. This couple who once shared so much love between them had totally fallen apart.
In 2009, Jon and Kate split up, leaving the fans wondering what would happen to the show. It was finally canceled in November 2009, but in 2010 it returned as Kate Plus 8 and things were a bit different.
Due to the drama that surrounded the couple's division, we saw a stressed Kate trying to navigate her new life as a single mother of eight children. She was left with custody of the children and managed to keep their home, but it soon became clear that her excessive control would break the family harmony.
Now, the children are divided between both parents. Maybe it's best to wait until the 8 siblings finish growing up and can each tell their own version of the story without being directly influenced by their mother or father, and meanwhile, we hope they enjoy the rest of their teenage years.
Kate has recently submerged in a new adventure, finding a new partner and companion now that her children will be soon leaving the nest to pursue their own careers. She will be the star of a new reality show called "Kate Plus Date" where her fans will follow her up until she finds the one that will be with her the rest of their life.
Please fill in your e-mail so we can share with you our top stories!