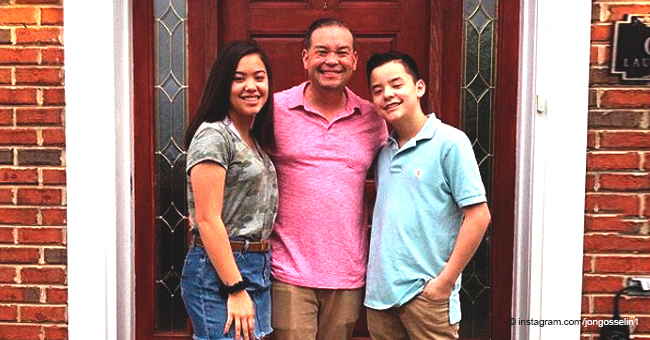 Jon Gosselin Posts Tribute to Sextuplets on Their 15th Birthday (Photos)

The most famous sextuplets of television just turned 15 years old and his father congratulated them lovingly through social media.
Jon Gosselin posted an emotional message accompanied by a photo on his Instagram account addressed to his sextuplets children to congratulate them for their birthday, despite the fact that 4 of them have not wanted to have any contact with him for more than three years.
The sextuplets that became famous in the reality show "Jon & Kate Plus 8" turned 15 on Friday, May 10. Fortunately, Jon managed to share this special day with two of his 8 children; his daughter Hanna and his son Collin.
"Happy birthday number 15 Hannah, Collin, Alexis, Aaden, Joel and Leah!" The 42-year-old father wrote in the subtitle. 'Wow, I can not believe you have 15 !!! Time flies! I love them all '.
The former television star added: "I wish you the best day of my life and I hope you enjoy the celebrations of your birthday today and this weekend! Always love, dad."
In one of the photographs, you can see Jon flashing a big radiant smile as he stood on the front porch of his Pennsylvania home with his arms around Collin and Hannah. The children look just as happy as their father.
The sextuplets were born healthy and strong in 2004, but the marriage of their parents began to have strong conflicts and the couple decided to divorce in 2009, after spending 10 years together. From that moment on, Jon's relationship with his children became increasingly difficult.
After Kate won full custody of the 8 children, Jon told reporters that the last time he and all his children met, things got tense. "It was just volatile and a lot going on," he shared. "It was just not a good time."
But now, some of his children are returning to form a relationship with their father and it seems to be the best. Hannah went to live with Jon about two years ago and Collin, who has been living in a school for children with special needs, is now in the custody of his father.
Jon does not believe that her son has any kind of special needs as Kate claims, and he even believes that in reality, she is the one who has issues and is the trigger for Collin's behavior problems.
Not only that but also since Jon won custody of Collin, he said that Kate has not returned to have any contact with her son. "The other four aren't talking to me, but they're talking to Hannah," Jon revealed. "It's what the kids want to do. If they don't want to talk to me, that's fine, as long as they keep up with their sibling connections."
Please fill in your e-mail so we can share with you our top stories!