Amy Schumer Responds After Being Mom-Shamed for Returning to Work
The new mom made a comeback on the stand-up comedy stage after recently giving birth. But she quickly turned up at the receiving end of ugly "mom shaming" on social media.
37-year-old Amy Schumer took to Instagram to share a snapshot of herself delivering a stand-up comedy routine on stage. With the photo, she announced her big return to work following her pregnancy. 
The actress captioned her snapshot, "I'm back," before crediting comedian Jon Laster for taking the snapshot.
The photo sees Schumer right in the middle of her performance. Donning a black, long-sleeved, V-neck mini dress, the actress seems quite enthused about her act.
However, several fans on Instagram were actually shocked by her quick return to work. She gave birth to her first child only a few weeks ago on May 5.

Many took to the comments section to advise her to take rest and not rush into work so soon after pregnancy.
Still, there were several other fans who were downright disrespectful in their comments, going as far as to mom shame the actress.

Instagram user "brollydanger" wrote, "Amy Schumer isn't funny, she should take 6 weeks to find a new job." Similarly, user "tsegui1" commented, "The poor child, I feel sorry for it!"

Meanwhile, some of the fans also jumped in to express solidarity with Schumer. Instagram user "fauxbarb" stated that the mom shaming "never ends." 
Citing her own example, the user explained that she continues to be mom shamed even after her children are now 22 and 18 years old.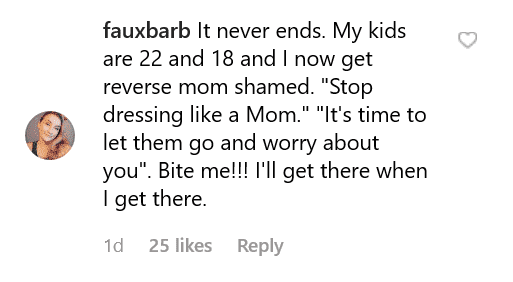 Schumer's decision was also welcomed and warmly supported by many other followers. They immediately took to the comments section to praise the actress for her courage to join work soon after delivery.
At one point, Schumer decided to respond to the haters in her own snappy, humorous manner.Replying to a comment from friend Molly McNearney, the wife of Jimmy Kimmel, Schumer wrote, "I've always wanted to be mom shamed!"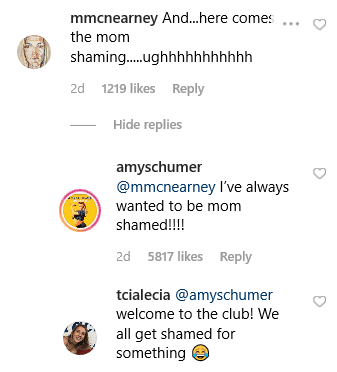 Schumer previously took to Instagram to announce the birth of her son. She shared a hospital snapshot of herself and husband Chris Fischer along with the newborn, and captioned it, "Our royal baby was born."
Schumer is not the only star to be mom-shamed on social media. Previously, singer Pink also opened up about her such incident persuaded her to not share intimate family photos online.