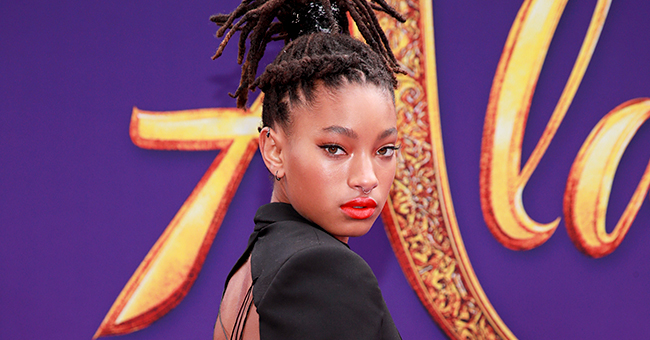 Getty Images
Will Smith's Daughter Shows Plenty of Leg in Blazer-Dress with Train at 'Aladdin' Premiere

Willow Smith definitely stole the show at the Los Angeles premiere of her dad's latest movie, "Aladdin." The young star showed off her sexy physique that had people wondering who designed the stunning outfit for her.
Willow Smith has always been a free-spirited woman, and this translates to her fashion choices. Often seen in fluctuating styles, this new appearance just proves she has an edgy side to her.
The entire Smith family stepped out to support Will in his role as "Genie" in the live-action movie of the Disney classic "Aladdin," but it's clear that of all their outfits, Willow stole the show.
When asked where she got the inspiration for her look, it was revealed that she actually just discovered it on Instagram through the Romanian streetwear label "Seen Users." The dress features an open back, a long train, and a blazer-dress hybrid. It was accented even more with black short shorts, and crystal heels.
The entire piece just showed Willow oozing with confidence, as it was not just sexy, but elegant. This type of piece definitely showed her in a different light as compared to what her fans are used to seeing.
The "Aladdin" premiere was a big day for Will Smith, who revealed that acting in the movie was the most "joyful moment of his career." This role allowed him to embrace his child-like qualities, and it was just something that he enjoyed a lot.
While this wasn't the case during the first part of filming as he was pressured to do justice to Robin Williams' voicing of Genie back in the 1992 animated movie, Will said he was able to get used to it and just went with the flow.
"So I started off fearful but then when I got with the music, it just started waking up that fun, childlike, silly part of me."
Aside from his family, a lot of his other friends showed up to support him. This includes his former cast members from the hit show "Fresh Prince of Bel-Air," particularly Tatyana Ali and Alfonso Ribeiro.
It was most definitely a day to remember for the Smith family, especially since Will just finished yet another high-profile and much-anticipated project.
Please fill in your e-mail so we can share with you our top stories!