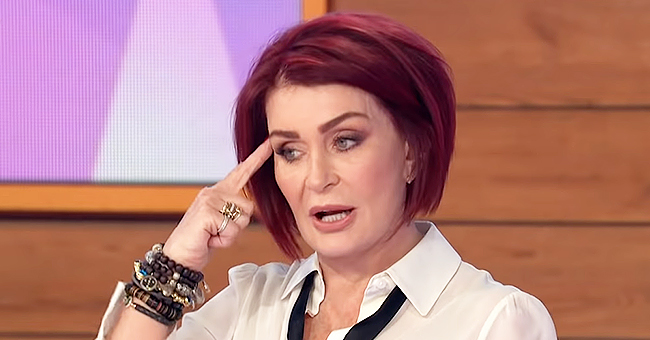 youtube.com/Loose Women
Sharon Osbourne Breaks down as She Speaks about Her 'Heartbreaking' Suicide Attempt (Video)
Sharon Osbourne sat with the "Loose Women" hosts as she shared the latest happenings in her family. The former X-factor judge speaks emotionally about the time she got suicidal.
A clip from the "Loose Women" show shared on YouTube shows Sharon Osbourne updating fans on recent news in her family. The music manager talked about her children.
Concerning Kelly, Osbourne said:
"It is so great for us to see her back doing what she loves to do. She has had two or three years off getting her life together. She has [been sober for two years] and no more shaved head!"
Sharon continued to her 33-year-old son mentioning that although Jack is divorced with three kids, her son has been able to manage sharing parental responsibilities with his ex-wife.
The music expert went on to talk about her husband's health mentioning that Ozzy has had a worrisome health history, ranging from getting severely injured from a fall, pneumonia, and bronchitis. she said,
"He has had a really tough year. It started off with flu, which went to bronchitis, which went to pneumonia. He was hospitalized, came out and he was well on the road to recovery,"
Going on to add how her spouse fell hard while returning from the bathroom, Sharon explained:
"He tripped on the carpet under our bed and fell against the corner of the night table, which is made of mirror. He hit it at such a speed. [He was] taken to hospital,"
She also revealed that Ozzy presently uses CBD oil in combating his pain.
Centering on herself, Osbourne recounted the controversial period she attempted taking her life. The 66-year old celebrity said.
"Three years ago, I had a very bad time in my life and I just thought I'm going to bail, I can't take it anymore. I just can't take the pressure. It's not just me, many people feel this way,"
The reality star included that she battled depression for 23 years and had decided she wanted to end it all. Sharon explained that her husband found her and quickly took her to the hospital. Her kids were livid after learning the news. Osbourne added in tears:
"When I was in treatment, there was two girls whose mother had committed suicide - two separate girls - and the damage that was left for them. I would never do it again,"
Concerning "X Factor," Sharon outrightly crossed out any possibilities of her returning to the show. While addressing her fans, she said:
"Nobody's asked me, but no. It's a part of my life that I absolutely had the best time, met great, amazing people. Had the best fun, was naughty, had a laugh. But that part of my life is gone, and you can't go back. So I have to move on for myself,"
Rounding up, Sharon spoke on getting a new surgery on her lip area stating that as women grow older, there's more space between the nose and the upper lip and she wants to correct that.
Please fill in your e-mail so we can share with you our top stories!