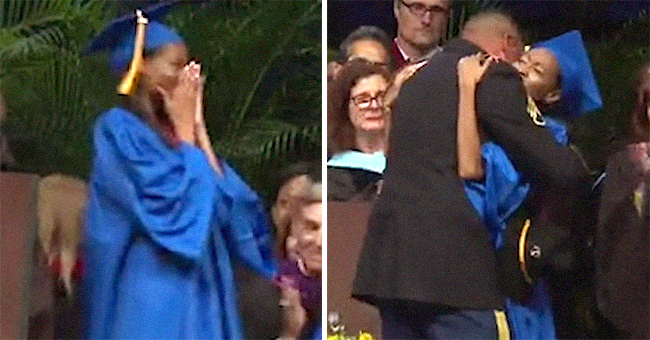 Graduating Senior Cries After Surprise from Army Dad She Hasn't Seen in Years
A graduate from St. Thomas Aquinas High School was brought to tears on stage when she was surprised by her dad that she hasn't seen in ten long years.
Kayla Tillman got a whole lot more than just her high school diploma this week, as her dad flew for 24 hours just to see her march onstage.
At first, it seemed like the normal graduation ceremony, with all seniors walking through the stage in their navy togas. However, after everyone was done, Kayla Tillman was called back on-stage. At first, she thought it was because she was about to be a "graduate of distinction." However, when one of the school officials began talking, it was clear that something was up.
The official thanked her and her family "for the sacrifices you have made to protect our freedom," which had the entire Nova Southeastern University auditorium roar in applause. That was when the announcement was made:
"All the way from Korea, please welcome U.S. Staff Sergeant, Anthony Tillman, Kayla's dad!"
At that very moment, Kayla's dad, a tank commander in the US Army who was deployed for ten years, walked on-stage.
The father and daughter were brought to tears, as they've only seen each other through video calls in the past decade. The whole moment was caught in camera, which had even viewers from the audience in tears.
According to U.S. Army Staff Sgt. Anthony Tillman, he was deployed since his daughter was in the fourth grade.
"I was deployed in Korea. I missed most of my daughter's life, high school life, probably since fourth grade. I'm a tank commander. I have a combat MOS, and I always think about them, when I'm out there doing my job, to make sure that I make it back safe to them. That was really my motivation, thinking about my daughters. I gotta go home to them."
It is unclear whether or not Staff Sgt. Tillman will be returning to Korea, or if he will be retiring and staying with his family in Florida.
Nonetheless, the family is set to have a great time celebrating not just Kayla's graduation, but the return of their dad.
Please fill in your e-mail so we can share with you our top stories!