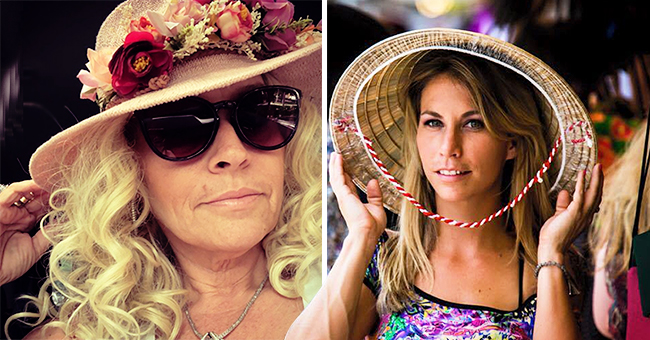 instagram.com/mrsdog4real / twitter.com/BabyLyssaC
Beth Chapman Slams Stepdaughter Lyssa for Snubbing Her on Mother's Day

Beth Chapman came for her step-daughter, Lyssa, on Twitter, slamming her for not sending her a Mother's Day message amid other accusations.
Beth Chapman is famous for starring on the bounty hunting reality show "Dog The Bounty Hunter" during the eight years it aired. She is married to Duane "Dog" Chapman, and they share eleven children.
Beth is the biological mother of the youngest two while the others whom she refers to as her "Bonus children" are from Duane's previous marriages.
The reality star has a relatively close relationship to her step-children, but all is not right between her and her step-daughter, Lyssa Chapman. She took to Twitter to slam the younger woman for snubbing her on Mother's day.
Beth wrote that she felt disappointed that her daughter — Lyssa — did not acknowledge her, but sent texts to some of her friends. She also wrote that the younger woman decided not to include her and Duane in their granddaughter's — Abbie — graduation from high school.
The reality star's tweet led to a lot of reactions; some of her followers thought it was a family issue that should have been settled in private, while others jumped on the blame-bandwagon, writing that the younger woman acted wrongly.
Beth responded that she is hurt, and do not want to keep the bitterness in her heart, adding that she has the right to address her daughter in the way she sees fit as Lyssa does not pick her call and blocked her and Duane.
The younger woman addressed the accusations with a tweet of her own. She denied blocking her dad and stepmom, adding that she did send her a text on Mother's Day and there was no way the reality star could attend Abbie's graduation as she was not "On the Island."
The reality star replied that she would have made it, and her daughter should have included them regardless. Lyssa is Duane's daughter from his third marriage to Lyssa Rae Brittain.
According to "HollywoodLife," the daughter of the bounty hunters was estranged from the couple after she wrongly accused her father of sexual abuse. She later took it back, saying it was a friend of his, and not the father-of-eleven.
Lyssa also said she had to leave the couple's home because it was not a convenient place for her to grow up in, and went to stay with her mother.
All these have become water under the bridge, as the young woman repaired her relationship with the bounty hunters. When Beth's cancer returned last year, Lyssa shared a message of her support on Instagram.
Hopefully, the two will fix their issues, because as the reality star said, she does not have much to look forward to these days, other than spending time with her family.
Please fill in your e-mail so we can share with you our top stories!