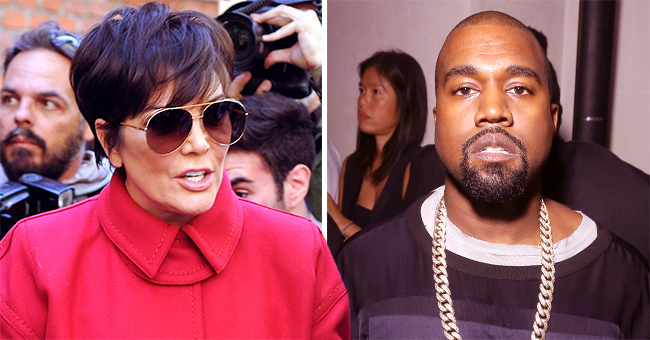 GettyImages
Kris Jenner Upset after Kanye West Texts Boyfriend Corey Gamble in 'KUWTK'
Kris Jenner's secretive boyfriend, Corey Gamble, became the center of a family dispute in the most recent episode of "Keeping Up with the Kardashians." Kanye West, voicing the family's concerns, questioned Gamble's background, and Kris was not happy at all.
Corey Gamble is, perhaps, one of the most private people surrounding the Kardashian-Jenner family.
He's been dating matriarch Kris Jenner for five years now, and not even her daughters know that much about the man that's continuously attached at Kris' hip.
KANYE'S IMPULSIVE ACTIONS
On Sunday's episode of "KUWTK," the family gathered to discuss the matter, as Kim Kardashian revealed that her husband, Kanye West, acted on impulse and texted Gamble at six in the morning questioning him about his family.
"Kanye texts Corey something along the lines of, 'Look, we don't know you, we've never met any of your family members,' " Kim explained. "Of course we've all felt that way and thought that, but for Kanye to just so bluntly say that to him — I feel like that was the wrong choice to make at that time."
Khloé Kardashian agreed with Kanye's sentiment, adding that the rapper was trying to look out for the family. "Corey does tend to be pretty secretive, and that does have me pretty guarded," she added. "We don't know Corey like that."
In a confessional, the new mom also revealed that she never worried about getting attached to Gamble because she thought his relationship with Kris wouldn't last.
"After my mom got her divorce, I was like, 'Okay, this probably isn't going to last,' " Khloé stated.
And continued:
"I just didn't feel the need to get that connected or attached. Then when I saw time progressing, and the relationship was still there, we tried to get to know him, but he has not been receptive in this whole thing."
Jenner, on the other hand, was upset at her son-in-law's actions.
"I just wish I knew why [Kanye] has to bring bad energy into the field at 6 o'clock in the morning," she said. "I would never disrespect somebody and say that."
She also put part of the blame on her daughters, accusing them of talking to Kanye about Corey and putting those ideas on his mind knowing that he would act on them eventually.
A TENSE ENCOUNTER
On top of the already existing drama, Kris invited Khloé and her best friend Malika Haqq to what was supposedly a girls' weekend at her Palm Spring compound. However, when they arrived, Corey was there too.
Khloé didn't have the best attitude toward her mom's boyfriend, and Kris thought it was inconsiderate. She said:
"I think it's really unfair to direct this attitude towards Corey. [Khloé's] behavior is just uncalled for. It's really important for Khloé to understand that she really needs to get on my bandwagon because Corey is a part of the family, he isn't going anywhere, and she needs to be nice."
Khloé defended her stance alleging that since the trip took place amid the situation with Kanye, she had to stand up for him. "I was not going to let Kanye go down on his own," Khloé said. "I'm going to ride for Kanye. He's my brother-in-law that I've known longer than Corey."
Kris tried to make Khloé understand things from her perspective, stating that when she or any of her siblings question her relationship with Corey, "it isn't okay, and it hurts feelings."
"I think what you guys don't realize is Corey is really taking care of me like no one ever has in my entire life," the momager added.
MAKING AMENDS
Eventually, Khloé decided to team up with Kim and apologize to Corey, who told them he was trying to stay on the "peace train" and recognized they were in all their right to feel the way they felt.
"We're happy you make our mom happy," Khloé said. "We just want to move forward and be in a good place."
"Ultimately, we just want to protect my mom," Kim added. "She's always going to be the most important thing to us so we are going to do what we can to just look out for her."
MARRIAGE IS NOT IN THE PICTURE
Kris and Gamble—who is 25 years her junior— started dating in 2014 after her divorce from Caitlyn Jenner, formerly known as Bruce.
Although they seem to be in a good place, Jenner revealed in a visit to the Ellen DeGeneres show a few years back that she has no plans for getting hitched a third time.
"You know, I've done that twice, and it didn't work out so well," Kris told the seasoned host when asked if she was considering marrying Corey.
"I'm going to take a page out of Goldie and Kurt's book, or Kourtney's book," she added. "I just think as long as things are going so well, why ruffle it up?"
Please fill in your e-mail so we can share with you our top stories!