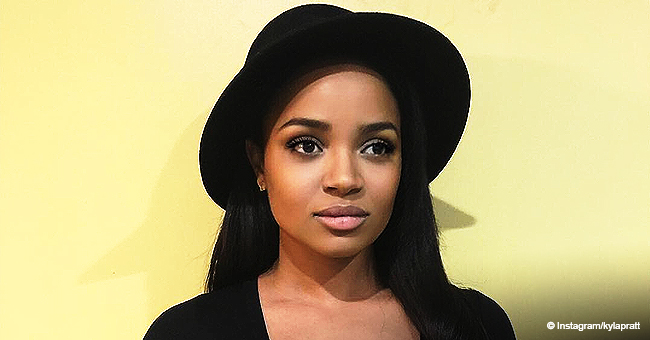 Kyla Pratt Wowed in Shoulder-Length Bob after Rare Photo of Her Daughters
Kyla Pratt, who was once a famous child star from "Barney and Friends" and "Dr. DoLittle," is now a beautiful mom with two daughters, Lyric and Liyah. She recently flaunted her bob cut in a photo with her mini-me daughters that had her fans in awe of their beauty.
Through the years, Kyla Pratt kept her youthfulness and is still just as beautiful as she once was. Now, her beauty has rubbed on her two little girls, who share a striking resemblance with their mom.
Kyla's Two Daughters
Kyla gave birth to her first daughter, Lyric Kai Kirkpatrick, on November 17, 2010. Since then, she kept her pregnancy and daughter a secret until a year after, when she finally shared a photo of her little girl on social media.
The same thing happened when she gave birth to her second child, Liyah Kirkpatrick, whom she gave birth to on August 5, 2013. Now that her kids are a lot older, they've frequented her Instagram more often.
As for why she hid her daughters, she revealed that it was due to personal reasons and because she wanted to enjoy her pregnancy without having to undergo public scrutiny, which could be stressful to any mom.
Any chance she gets, Kyla gushes about her daughters on Instagram, and it comes with no surprise why! Her two mini-mes are just adorable, and even her fans can't get enough of them.
Kyla's Hollywood Projects
Kyla Pratt is the eldest child of Kecia Pratt-McCullar, a teacher, and Johnny McCullar, a semi-professional basketball player. She began acting when she was a child, starring in movies like "Smart Guy," "Friends," "Sister, Sister," "Family Matters," "Lizzie McGuire," "The Parkers," and "Moesha."
She was cast in a lot of famous child movies, and that what made her so popular with her own generation. Now that she's a lot older, they still remember her for all the roles she's played, despite living a more low-key life with her family.
One particular role that she was most known for, was her role as Dr. DoLittle's daughter, Maya. She starred alongside Eddie Murphy in this film when she was just a teenager. In the remake of the movie, she ended up being the main character.
However, after a long life of acting, she's decided to focus on being a mom to her two kids, and at 32-years-old, she's been doing just that.
Kyla's Present Life
The California resident married songwriter and hip hop singer, Danny "KP" Kirkpatrick, and the two of them share their two daughters. The two share the same love for music, as not only does Kyla act, but she also sings. In fact, she was once a part of Disney Channel's Circle of Stars.
It's been a while since Kyla's supporters have seen her on-screen, and it's remained a mystery whether or not she's bound to ever return for a movie or a show in the future. For now, people can enjoy updates of her everyday life thanks to social media.
Please fill in your e-mail so we can share with you our top stories!