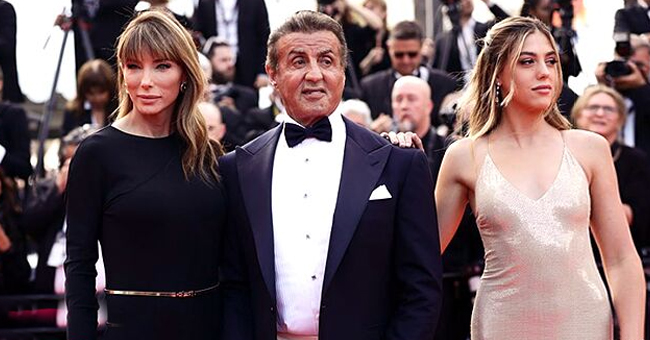 Getty Images
Sylvester Stallone Attends a Special Career Tribute Event in Cannes with Wife Jennifer Flavin & Daughter Sistine

Accompanied by his wife Jennifer Flavin and daughter Sistine, Sylvester Stallone stepped out in France at the Cannes Film Festival, where a celebration of his decades-long career was held.
Stallone, who carved out an illustrious movie career spanning nearly five decades, was every inch the leading man as he took to the red carpet at the Cannes Film Festival recently. The 72-year-old actor was joined by his wife Jennifer and daughter Sistine, as reported by PEOPLE.
"When I started out, I just wanted to get a job. Then I discovered writing, and it was a fun way to express myself."
The honorary event includes a screening of his 1982 classic "Rambo: First Blood" and a preview for his upcoming film "Rambo V: Last Blood."
The family shined together on the red carpet. Jennifer wore a long-sleeved black, shimmery gown and Sistine opted for a figure-flattering long-sleeved metallic gold gown with a plunging neckline. Meanwhile, Stallone looked incredible in a black tuxedo.
The trio posed confidently on the red carpet. They stayed close together as Stallone kept his arm around his wife and held hands with his daughter.
During the event, Cannes' boss Thierry Frémaux introduced Stallone to the audience. The iconic actor received a standing ovation as he walked up on stage.
Once stage, Stallone thought about the beginnings of his career. He talked about how bizarre the night felt for him.
"When I started out, I just wanted to get a job. Then I discovered writing, and it was a fun way to express myself. Ya know, without failing, if I had succeeded in what I wanted to do, it would have been over," Stallone said.
He added: "But the fact is that I failed and found something else to do, which is be able to take the words inside and put 'em on the page and hopefully they would relate to everyone."
"I want to thank the power of the written word," he continued. "This is the most extraordinary event I've ever seen. I did not expect this."
Stallone increased overall popularity with his starring role in the massive hit film, "Rocky," which was nominated for ten Academy Awards. The film went on to win the Academy Awards for Best Picture, Best Directing, and Best Film Editing.
Please fill in your e-mail so we can share with you our top stories!