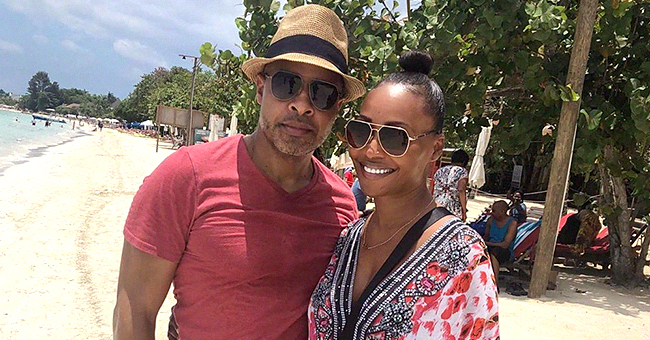 Instagram/CynthiaBailey10
Cynthia Bailey's Boyfriend May Have Confirmed Their Engagement with Recent Post
Speculations of an upcoming wedding between Cynthia Bailey and her boyfriend Mike Hill have been circulating for quite a while, but it seems their latest Instagram updates just confirm their engagement.
Mike and Cynthia are currently on vacation in Negril, Jamaica, to attend a friend's wedding where Cynthia took on the role of bridesmaid. During their vacation, the happy couple went on some adventures that they wouldn't usually do, such as go parasailing.
According to the "Real Housewives of Atlanta" star, she's never gone parasailing because she is afraid of heights and water.
Adventures of Mike and Cynthia
Hill posted about the fun adventure on Instagram, saying they were "taking this to the next level." While people could've easily thought it was about parasailing, some are thinking that it was actually a cryptic message about getting married soon. After all, he also mentioned, "I asked her and she said yes!", which could have easily been something far more complex than just going parasailing.
To add to these speculations, Bailey added a video to her Instagram Stories saying that she got a surprise while they were in the air. While she did not expound, people are now guessing that it was a proposal that she got especially since Mike's message was hinting about proposals in the first place.
"I got a surprise up there that I was not expecting."
Planning the wedding?
Before their Jamaican adventure, Cynthia was spotted looking for formal dresses, which implicated their nearing union.
Cynthia even revealed during a recent interview that if Mike asked her to marry him, she would say yes.
"Yes, I might do it, absolutely. I'm a woman of a certain age, I don't have a hundred years to wait for him to ask me. If he doesn't do it in a timely fashion, I might have to.For a long time I did not [want to get remarried]. But I have to say I'm pretty smitten by Mike Hill."
Now, their fans are just waiting for the two of them to make a formal announcement about their planned wedding.
Please fill in your e-mail so we can share with you our top stories!