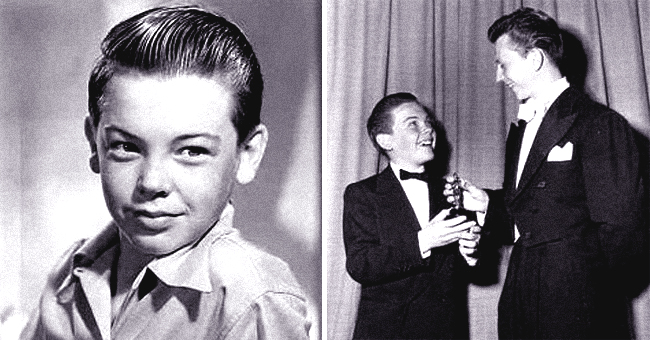 wikipedia.com
Tragic Story of Bobby Driscoll: from Early Stardom to an Unmarked Pauper's Grave
Bobby Driscoll was Disney's first fallen child star whose rejection and eventual self-sabotage led him to a bizarre and unfortunate early death.
At just five and a half, Robert Cletus Driscoll was discovered in a Los Angeles barbershop as he was getting his haircut. He was an only child, but he stole hearts from his first film, 1944's "The Fighting Sullivans."
Walt Disney took young Driscoll under his wings
The young boy with his bright smile, soulful eyes, and angelic looks landed several roles on the big screen. In 1946, he signed a contract with Walt Disney when he played the lead on "Songs of the South."
He and co-star Luana Patten, another child actress, were labeled as the "Sweetheart Team" at the time. They went on to star together in 1948's "So Dear To My Heart" and "Pecos Bills."
He was high in demand
In 1949, Disney shared Driscoll with RKO Studios for "If You Knew Susie" and "The Window." The latter earned him an award for Outstanding Juvenile Actor in the Juvenile Academy Awards.
Upon returning to Disney, Driscoll continued his reign with "Treasure Island" alongside British actor Robert Newton. Yet he had trouble in Britain since he had no work permit.
Britain slowed him down
Although the crew managed to shoot all Driscoll's scenes before he left after a few days, Disney paid a hefty fine for the incident. In retrospect, this was just the start of hard times for Driscoll.
The actor was meant to play the role of Tom Sawyer soon after, but a story ownership rights dispute with David Selznick, the director, caused the project to fall through.
Driscoll also lost out on the role of Robin Hood because of the same work permit issue. The filming would have had to be done in the UK, and Driscoll was banned from there at the time.
Walt Disney continued to share him
Again, Disney stepped back and allowed Driscoll to work with another studio, Horizon Pictures, where he starred in "When I Grow Up." Soon after, he also appeared in "One Hour in Wonderland," Disney's first Christmas special.
In 1951, Driscoll landed a voice acting role as Goofy Jr. in some cartoon shorts. He was falling behind on serious acting roles because of the child actor stigma that had followed him.
Still, he managed to get onto a star-focused television series along with other big names like Loretta Young, Gloria Swanson, and Jane Wyman. He also took to radio appearances, which earned him a Milky Way Gold Star Award in 1954.
He made a perfect Peter Pan
Before that, Driscoll was able to have one more major hit film on none other than 1953's "Peter Pan." He was the first man to voice the part of the boy who never wanted to grow up.
Driscoll reportedly made $1,750 a week around that time, but he wasn't landing many roles anymore. Then, as soon as "Peter Pan" made its theatrical release, Disney prematurely ended Driscoll's contract.
Yet Disney let him go early
It's believed that the teenager's bad acne was the main reason for Disney dropping him. That, coupled with his developing voice that was not as smooth as before, left him without steady work for a long time.
Driscoll's parents attempted to put him through Westwood University High School then, but an alleged quote from the actor said that the other students "didn't accept [him]."
Driscoll escaped rejection with drugs
At 17, Driscoll started using hard drugs, with heroin usually being his first choice due to cost. He managed to graduate from the Hollywood Professional School in 1955.
Just a year later, police arrested him for marijuana possession; they dismissed the charges soon after. In December, Driscoll moved to Mexico with then-girlfriend, Marilyn Jean Rush.
The two would elope and get married in Los Angeles one year later. Driscoll, still plagued by the child star stereotype, changed his name to Robert to help find work.
He found success on television shows "M-Squad" and "The Silent Service." Additionally, he worked in 1955's "The Scarlet Coat" and 1958's "The Party Crashers."
He was arrested and divorced
Despite that, Driscoll continued his downward spiral. He was involved in a violent incident that led to an arrest and charges for assault and disturbing the peace.
Among other things, he and his wife separated due to his behavior. They got back together but officially divorced in 1960. Driscoll got small parts in "The Best of the Post" and "The Brothers Brannagan."
Another arrest in 1961 for robbery, assault, and narcotics possession, and admission into the Narcotic Rehabilitation Center in California further cemented his increasingly poor reputation.
His reputation preceded him in the industry
When he got out in 1962, the entire industry seemed to have turned against him. An attempt at work as a salesman was a dud. Driscoll moved to New York but received the same answer from the industry there.
Driscoll's last-ditch attempt was on Andy Warhol's "The Factory," which focused on art. One experimental film, "Dirt," came out of it to no avail. The actor withdrew and disappeared in Manhattan in 1968.
His body was found by kids
In March, two young boys discovered Driscoll's body in the room of an East Village tenement surrounded by two beer bottles and religious pamphlets. A medical examiner gave the cause of death as artery hardening which led to a heart attack.
The symptoms are common in heroin addicts, though no drugs were found in Driscoll's system. The body, still unknown at first, was buried in an unmarked pauper's grave in Potter's Field on Hart Island.
Driscoll was 31 when he died. It would be a year until his mother got his fingerprints from Disney and was able to match them with her son's body. Driscoll's father died two weeks after learning what had happened to him.
Dana Plato also died young
Another child actor who passed away at a young age was Dana Plato. Best known for her role on "Diff'rent Strokes," Plato started her career in tv commercials, amassing over 100 of them.
She was fired from the show for getting pregnant at 19. Two years later, the show was canceled. Within another four years, Plato lost her adoptive mother and got divorced from her husband.
She spiraled into robbery and drugs, only able to land roles in B-movies. She got married again to Robert Menchaca. Then in 1999, Plato was at her parents-in-law's home and overdosed on a combination of Valium and Lortab. She was 34.
Please fill in your e-mail so we can share with you our top stories!