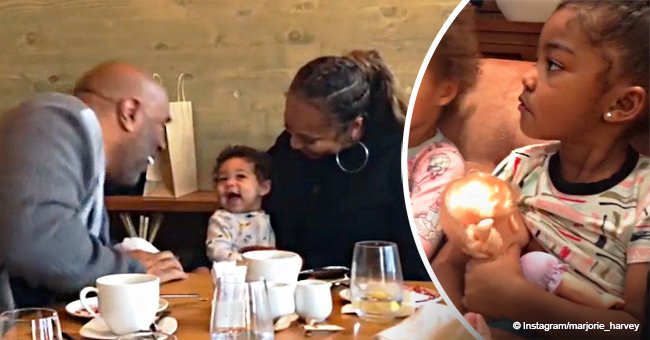 Steve Harvey & Wife Played with Grandson as Their Granddaughters Breastfed Dolls in Sweet Clips
Marjorie Harvey, the wife of host and comedian Steve Harvey, took to Instagram to share a clip of her husband playing with their youngest grandchild.
In the short video, Marjorie appeared wearing a black ensemble while holding little Ezra on her lap. The child was completely focused on his grandfather, who was moving back and forth while smiling.
After that, Steve placed his hand in front of him and moved it trying to get more smiles from the boy. Reaching the end of the clip, the man again moved back and forth, making little Ezra laugh.
For the caption, Marjorie pointed out that the couple was playing with the baby at Lori's birthday brunch. Lori, one of Marjorie's daughters and Steve stepdaughters, turned 22 on January 13, 2019.
Soon later, Marjorie shared another video showing her granddaughters, Rose and Elle, "breastfeeding" their dolls in the most adorable way.
When the person recording asked them what they were doing, they replied, "feeding out babies – from our boobies."
STEVE DOESN'T ENJOY BEING A GRANDFATHER
Those clips of the Harveys' grandchildren hit the internet a couple of weeks after Steve appeared on the "Ellen DeGeneres Show" saying that he didn't enjoy being a grandfather.
During one of the segments of the show, the famous host set clear that he was not as thrilled as most grandfathers are with that role. "I don't really get it," said the comedian, blaming his wife, Marjorie Harvey.
Ellen seemed surprised because she thought he liked the fact that grandchildren visited him for a couple of hours and then went back home. However, Steve said that Marjorie was making things a bit different as she lets them stay over.
"I told her, 'this is not how this is supposed to work. They are supposed to come over, and then they go home.' When they spend the night, I don't…" admitted Steve before talking about a photo Ellen showed in the big screen behind them.
HIS FIFTH GRANDCHILD
It portrayed Steve and Marjorie holding Ezra, who is their fifth grandchild. Ellen asked him about his age, but Steve was very sincere and said that he had no idea how old Ezra was. What he did know was that he became the tiebreaker as they now have three grandsons and two granddaughters.
Apart from that, Steve pointed out that he had not played with Ezra yet because he doesn't like babies who don't have head control yet. "You got to put them two fingers back there, and then it slides off, and you feel responsible for them."
Finally, the comedian said that he didn't like playing with children who couldn't speak and that he didn't like the stage "when they do nothing."
The clips that Marjorie uploaded to her Instagram page set clear that Steve was joking during the show and that he loves being a grandparent as much as anybody.
Please fill in your e-mail so we can share with you our top stories!