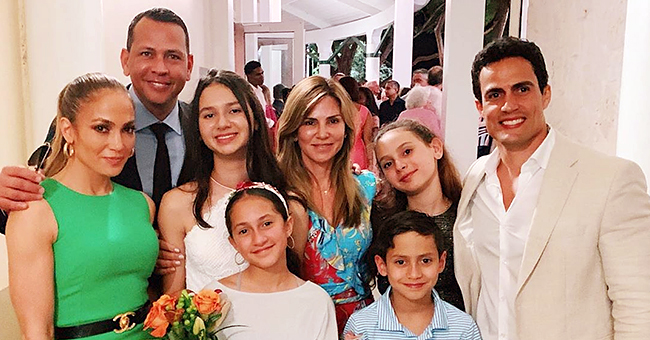 Instagram/arod
Alex Rodriguez Poses with Ex-Wife Cynthia & Jennifer Lopez at Daughter's Graduation
It was a blended family affair for Alex Rodriguez and Jennifer Lopez who attended the middle school graduation of Alex's daughter along with his ex-wife, Cynthia Scurtis.
On Thursday, engaged couple Alex Rodriguez and Jennifer Lopez proved they've mastered the art of melding their two families. During the former Yankee player's eldest daughter Natasha's graduation, they stood alongside the 14-year-old's mother, Cynthia Scurtis.
PROUD POP MOMENT
It was a moment Alex was proud of. His daughter was moving on to high school and she was surrounded by all the people she loved. Along with himself and his ex-wife, Jen's two other two children with Marc Anthony, Emme and Max were present. Alex shared a photo from the happy occasion which also included his younger daughter, Ella and Cynthia's boyfriend, Angel Nicolas.
"How is my beautiful angel going to be a freshman in High School?!" the bewildered father wrote though we suspect his pride overflows. "Congrats Tashi, we love you!" he added.
MASTERS OF THE MELD
It's not surprising a photo like this would surface in ARod's Instagram since fans are aware of how he and JLo thrive in blending their families. Their children get along very well. In fact, last year, JLo prided in the natural way these kids got along.
"That stuff can be tricky sometimes and I think a lot of people understand that, and I've had other relationships where it's been tricky, but with these four, it really works nicely," she told New York radio station KTU in July.
THREE'S COMPANY
And it's not only their children who get along. Even the father of JLo's twins blends well with the couple. In fact, just ahead of Natasha's graduation, Alex shared another post featuring Marc with him and his fiancé at the music recital of Max.
The amusing clip shows Alex sitting in between the former spouses in the audience. Marc and Jen entertain by mouthing the lyrics to the song the children were singing in the background, Dolly Parton's "I Will Always Love You." Marc provided comic relief in singing with gusto.
There is clearly a lot of love and respect for the past between Alex and Jen and we can't help but admire them for this. Kudos to this amazing couple whose relationship is strengthened by their openness.
Please fill in your e-mail so we can share with you our top stories!