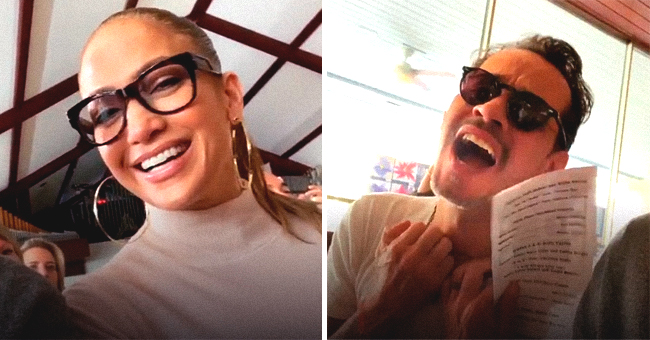 Instagram.com/arod
Jennifer Lopez Enjoys Children's Choir with Marc Anthony and Alex Rodriguez (Video)

Jennifer Lopez had a sweet family day with her ex, Marc Anthony, and her future husband, Alex Rodrguez, during a school recital of her son Max.
When it comes to sports Alex Rodriguez has a solid reputation but if it is about singing he prefers to leave it to the professionals. That's why in the recital of Max's school, the son of Jennifer Lopez and Marc Anthony, he preferred to enjoy listening to the concert.
The proof of this is in the video that went up on his Instagram account where you can see Jennifer first and then Marc moving his lips synchronized with the song that the children are singing in the background "I Will Always Love You," by Dolly Parton and who became famous for the reissue of her song by Whitney Houston in 1992.
"Those who can, do. Those who can't sit between two people that can and stay quiet! #imnotasinger," Rodriguez wrote to accompany the video. Lopez shared Rodriguez's Instagram post on her own page and added "#ProudParents." She also shared a picture of her son wearing a cowboy hat with the words "Maxi!!!!" along with a blue heart emoji.
Jennifer, Marc, and Alex attended the concert of 11-year-old Maximilian son of Lopez and Anthony, born during their marriage of seven years. The couple was married until 2014 when they separated and Jennifer was in the care of twins Max and Emma.
Alex, 43, has two daughters from his five-year marriage with psychology teacher Cynthia Scurtis; Natasha, 14, and Ella, age 10. Alex has always shared his joy at how his daughters enjoy being with the twin sons of Jennifer and Anthony, Max and Emma.
This demonstration that mixed families do work is not the only one that has given this trio. They also attended a dress rehearsal for Emma, Natasha, and Ella last summer, revealing that not only do they support each other's children but that the family loves a concert.
Lopez is delighted that all the children get along, and she said: the children are wonderful, they behave very well in front of the strangers, and they are very good kids. Emma recently had a recital at her school and sang "If I Ain't not Got You," by Alicia Keys and the family came to support her.
Alex and Jennifer are engaged and are currently planning their wedding, with all the details, dresses, trousseau and whatever it involves. The fact is that Jennifer is usually very busy with her work and children, which makes it a bit difficult to follow a plan.
In a recent interview, J-Lo said that they have no hurry and that they will enjoy the whole process together.
Please fill in your e-mail so we can share with you our top stories!