Barack Obama's Jacket Stole the Show at an NBA Final He Attended in Canada
Barack Obama was recently in attendance for Game 2 of the NBA Finals between the Toronto Raptors and the Golden State Warriors, but there was something else that caught everyone's attention.
On Sunday, June 2, 2019, the former United States President walked into the Scotiabank Arena wearing a very stylish black leather jacket, the same one that he used earlier this year to watch Duke play against North Carolina.
Obama marched in alongside Toronto Raptors President of Basketball Operations Masai Ujiri and fans couldn't help but praise his cool look.
.@BarackObama is in the house for Game 2 👀

(📽️: @Raptors) pic.twitter.com/he3Ou1e1DX

— TSN (@TSN_Sports) June 2, 2019
DRAWING THE FANS' ATTENTION
Several people took to social media to comment on the former Head of State's fashion sense, describing him as "the coolest guy ever" and how he is living his best life.
One Twitter user, named Leslie Luna, was so impressed by Obama's look that she claimed to be "ready to risk it all." The comment was followed by a short video of Obama greeting rapper Drake at the NBA Finals.
Drake and @BarackObama at Game 2 of the NBA finals! #raptorsvswarriors pic.twitter.com/Lq8GWtJBzN

— Word On Road (@WordOnRd) June 3, 2019
The 57-year-old was later spotted sitting next to NBA Commissioner Adam Silver and was even introduced by the PA announcer, who welcomed him to the Arena, much to the crowd's delight.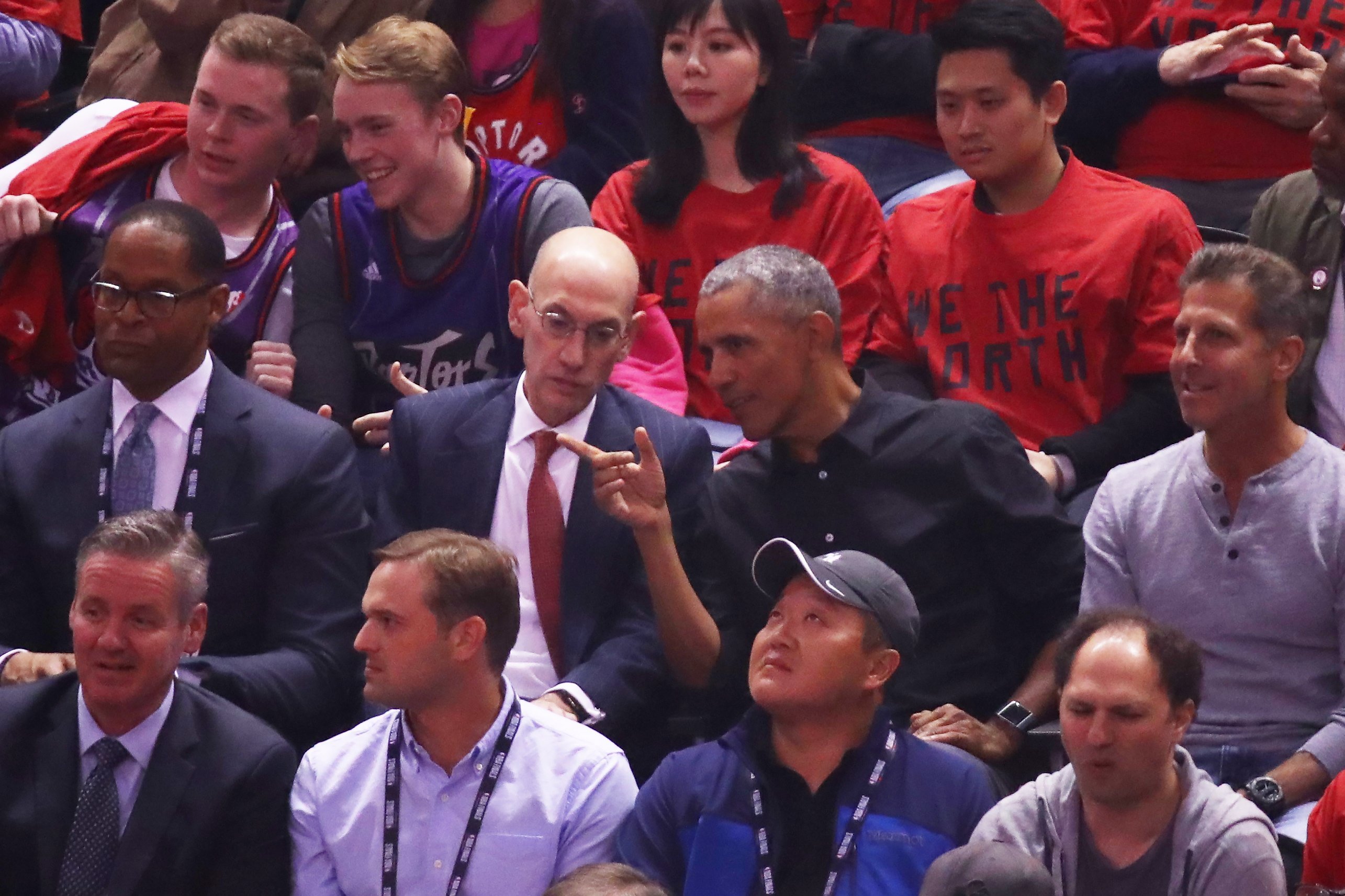 MINGLING WITH THE YOUNGER GENERATIONS
Being a big fan of sports, Obama also took some time off from writing his White House memoir to visit Washington's Nationals Youth Baseball Academy in May.
There, the politician had the opportunity to show off his athletic skills while playing football and softball with some of the children, who couldn't have been more excited about meeting him.
ALWAYS READY TO SHARE THE WAY TO SUCCESS
In some of the videos shared online, Obama can be seen throwing a football and hitting a double on the first pitch, as well as sharing some valuable advice with the youngsters.
Thank you, President Obama, for inspiring our hard-working Scholar Athletes, validating the work of our caring Academy staff, and shining a light on the impact we have on our community when we come together as #Nats4Good. pic.twitter.com/b6Je34tbLD

— Nationals Philanthropies (@Nats4Good) May 24, 2019
Obama told the children that they should always work hard at school and listen to their coaches because, if they do, they will be able to "do great things."