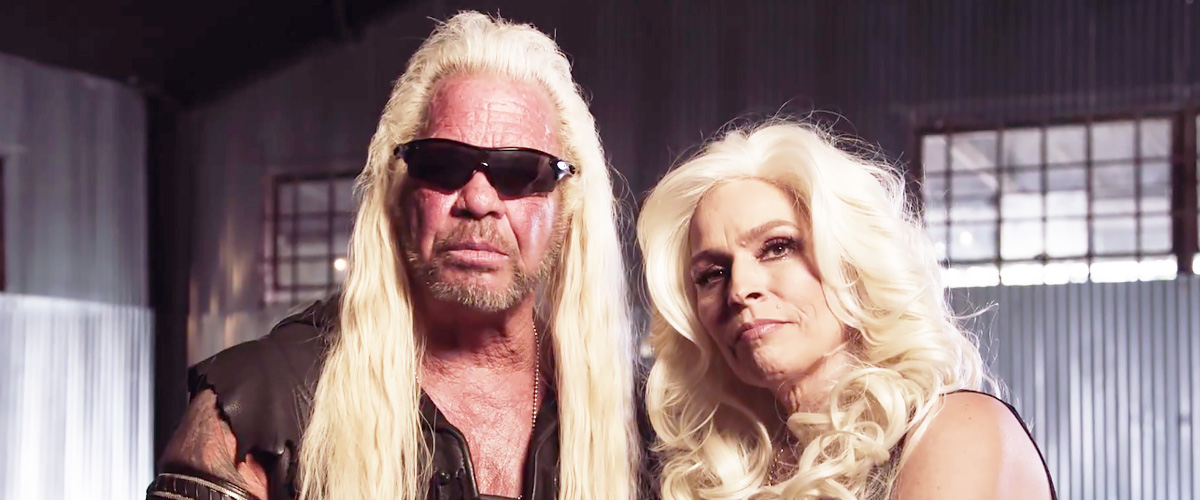 youtube.com/WGN America
Duane 'Dog' Chapman Announces a New Season of His Show with Wife Beth Still Battling Cancer
Duane "Dog" Chapman sent a chilling message to fugitives as he announces the new season of his show amid Beth Chapman's cancer battle.
The bounty hunting couple, Beth and Duane "Dog" Chapman do not joke when it comes to catching the bad guys and in preparation of the new season of their show "Dog's Most Wanted" on "WGN America," they sent a chilling message to those they hunt.
THE MESSAGE
In the trailer released on YouTube, the reality couple stood side-by-side in a black outfit, blonde hair, and dark sunglasses worn by Duane. The footage started with the head bounty hunter introducing himself while his wife looked on. He informed fugitives that the love of his life is fighting for her life, and instead of staying home with her, he will be chasing them. He added:
"So I'm warning you; may God have mercy on you when I catch you because I won't."
Beth chipped in at the end that they should take note of the warning. The video also had clips of the mother-of-two lying in a hospital bed, and Duane on the move going after his prey with a gun in hand.
UNSCRIPTED SHOW
The show will be the first unscripted series to air on "WGN America" in about five years, and the network aside from the trailer released pictures of the reality couple.
The bounty hunters are seen dressed in black outfit. Duane wore a leather vest on slacks while Beth wore a Leopard print dress with a leather jacket and they had their guns holstered.
The announcement of the new show came early this year, and the matriarch of the Chapman family asked their fans on Twitter to thank the network for hearing their plea and bringing the show back.
THE CANCER BATTLE
The show is coming amid Beth's throat cancer battle, but she is not letting it put her down. The first diagnosis came in 2017, and two months later, she was in remission.
In 2018, it returned, and she was hospitalized in Los Angeles for emergency surgery to cut out the new growth. Early this year, she started chemotherapy and shared a photo on Instagram writing as hashtags that cancer sucked and she doesn't mind losing her hair.
In April, the TV star was in the hospital after she had difficulty breathing while in Hawaii. She got released in time to spend Easter with her family and shared a smiling picture of herself on social media.
Beth, with the support of Duane, is relying on prayers to get her through the health challenge, and she is taking life one day at a time, doing the things she loves.
Please fill in your e-mail so we can share with you our top stories!