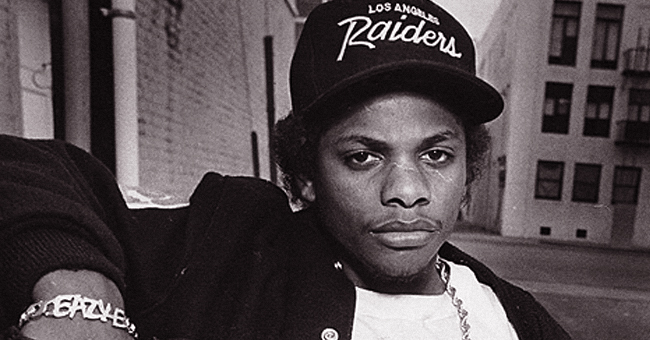 Twitter/DatPiff
What Caused Eazy-E's Daughter to Curse out His Widow Tomica Wright Online
Late rapper Eazy E's widow, Tomica has had a lot to deal with from his children since his death. That trend continued when his daughter Ebie Wright called Tomica out on Twitter, tongue-lashing her so much that it surprised many.
Erin "Ebie" Wright was only three and a half years old when her father, Eazy E died. Though young, Ebie had at that time developed a deep connection with her father, a bond she still feels even twenty years after his death.
This deep love and affection between Ebie and Eazy E prompted the former to tongue lash Tomica, Eazy E's widow, and her step-mother on Twitter.
EBIE CALLS OUT TOMICA
Ebie called out Tomica Wright after a fan on Twitter asked her about her late father's record company and how his wife, Tomica, handled it. Ebie replied to the fan by saying that Tomica ran the company to the ground and ruined all that her father worked hard for.
She ended her tweet by cursing Tomica with #Fu*kTomica.
EBIE WANTS THE TRUTH OUT
Part of Ebie's grouse with Tomica was about the way N.W.A's biopic, "Straight Outta Compton" portrayed her father. In her tweets, she boldly explained the discrepancies in many of the scenes involving her dad, pointing out that it should have been told with the whole truth.
She gave many examples of these discrepancies, one being the wrong portrayal of Suge Knight beating up her father. She explained that Suge only pointed a gun at her father and forced him to sign over Dr. Dre, but didn't beat him up.
In an interview with "ESSENCE," Ebie also questioned Tomica, an executive producer on the film on why she left out the women stories involving her dad. She accused Tomica of not wanting anyone to be shown from her dad's side.
Ebie, however, plans to let the truth out as she plans to release a documentary about her dad in which she will tell the world the truth about him and how he died. The Documentary would be called "A Ruthless Scandal: No More Lie."
EAZY E'S CHILDREN PAY TRIBUTE TO HIM
Eazy E's daughter's ReeMarkable and Ebie paid him a lovely tribute on his birthday. The girls were still children when he died, but still, have fond memories of their father. ReeMarkable recreated some of Eazy's iconic portraits while Ebie on her part is making plans to shoot a documentary of the rapper.
Please fill in your e-mail so we can share with you our top stories!