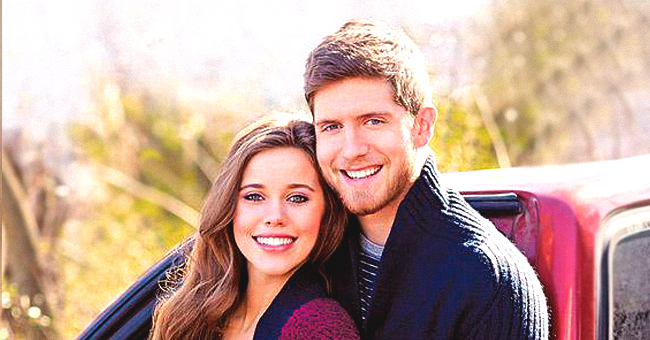 twitter.com/people
Jessa Duggar & Ben Seewald Reveal Why They Named Their Daughter Ivy & What It Means

Jessa Duggar Seewald and Ben Seewald were long prepared with a name for their first daughter, but it's background is not as deep as one might think.
The "Counting On" stars gave birth to a new bundle of joy on May 26 and right away revealed the name to fans. A week later, they've decided to let us in on the meaning behind the name Ivy Jane.
In a video posted to the family website, Jessa and Ben opened up about the royal origins of the name Jane, and the simple preference for the name Ivy. Pictures of the newborn are found below.
Ben explained:
"Ivy Jane. We just liked those two names, Jessa and I talked about it beforehand this time around. We actually had a name picked out before she was born."
He then went into the royal origins of the name Jane:
"We liked the way those names flowed together and with her middle name, Jane, she's actually named after Lady Jane Grey, who was a young lady who was queen of England for a short time during the 1500s. She's a very inspirational character to us."
Lady Jane Grey was the great-granddaughter of Henvy VII who became the nominal Queen of England for nine days. This was done to prevent a Catholic, Mary Tudor, from ascending to the throne, reported BBC.
As for the name Ivy, there's no meaningful history or biblical origins, as was the case for the couple's two older boys, Spurgeon Elliot, three, and Henry Wilberforce, two.
According to Pop Culture, Spurgeon was inspired by Baptist preacher Charles Spurgeon, a significant teacher for the couple. Elliot was given to honor Jim and Elisabeth Elliot, two Christian missionaries.
The name Henry was in tribute of a minister, Matthew Henry, and Wilberforce came from an abolitionist named William Wilberforce. In comparison, Ivy is mentioned once in the Bible in speaking of the plant.
In an interview with Us Weekly, the couple also shared how their boys have so far interacted with their new sister. "Spurgeon, especially, knew what was going on a little bit more because we were talking to him and he's a little bit older," Ben explained.
He added:
"[Spurgeon] kind of gets it, so he held Ivy for several minutes. Henry, he just kept saying, 'Baby.' It'll be fun to watch them interact. We're going to have to teach them how to be more gentle, though, because they're pretty rough."
Jessa further revealed details about her pregnancy, describing it as "very quick" in a clip for TLC. Her water broke around 8:30 am, but contractions didn't start until 2:30 pm.
"Then she was born at 6:00. So really just three and a half hours of labor," she finished. Ivy weighed in at seven pounds, 14 ounces, the smallest of her brothers who came in at 10 and nine pounds.
The couple first announced news of their pregnancy in January along with a family photo taken outside. Baby Ivy will make her debut when "Counting On" returns to TLC in the fall.
Please fill in your e-mail so we can share with you our top stories!