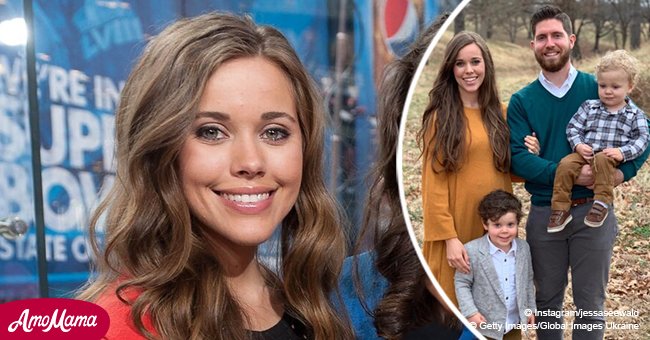 Jessa Duggar reveals she's pregnant with 3rd baby through touching family portrait

Hours ago Jessa Duggar announced on Instagram that their family is getting another member, as she is expecting their third child.
Jessa captioned a lovely family picture with the news on Instagram:
"Happy news from the Seewald family! Baby #3 is on the way!"
On their blog, Jessa and Ben excitedly shared that their baby is due in spring, although the sex has not been determined yet.
Jokingly Ben and Jessa said that if it turns out to be a boy, as they expect, then they will have plenty of clothes to hand down, however, if it were a girl they would have to learn everything from scratch.
Already the proud parents of 3-year-old Spurgeon Elliot and 23-month-old Henry Wilberforce, the couple can't wait to welcome their third to the fold as Jessa added:
"Seeing our boys meet their new sibling for the first time is something we are really looking forward to! We realize that, in going from two to three kids, we're about to switch from man-to-man to zone coverage, so we've definitely been taking advice from friends who are already in this stage! We love being parents and are really looking forward to this new arrival!"
Little Henry is still too small to have an understanding of what is going on, but Spurgeon understands and asks questions about the new sibling often.
Ben Seewald and 'Counting On' star Jessa Duggar got married in November 2014 in Bentonville, Arkansas at the First Baptist Church. Spurgeon was born a year later, and Henry joined the family in February 2017.
The couple first met when Ben was 17 and Jessa 20, she arrived late for church one morning, and their eyes met as she scurried in. Their first conversation was nothing more than nervous awkwardness, but family members picked up on the chemistry and lent a helping hand.
Ben got invited over for dinner, and they had been together since. From that night she knew he was the man for her and was unaware that he felt the same.
At first, she worried that their age difference might be a problem, but all it turned out to be is a number as she said in a letter to Ben:
"I'd found out your age, and calculated that I was 2 1/2 years older than you. Surely he wouldn't be interested in an older gal, I reasoned. He's a teenager, and I'm already twenty!"
Now a happily married mom, Jessa shared a habit she and Ben have, which help them maintain a good close relationship as she added:
"Never stop showing gratitude to your spouse for all the things they do to help out. It doesn't matter how big or small."
They also have a standing date night which they look forward to, as spontaneous outings would rarely be possible with two small children.
The expecting mum love sharing pictures of her kids, and after posting one in particular of Spurgeon and Henry sitting on a couch using a cell phone, Instagram followers responded with messages accusing her of being a lousy parent.
Other fans came up for Jessa and stated that she could raise her children as she saw fit, but Jessa handled the situation nicely when she wrote a reply:
"At this point we don't let them play games or anything on our phones, but they do enjoy getting to watch some Peppa Pig on special occasions usually if we're out and about and it's pushing nap time, or if we're at a restaurant and they've been sitting for a long time."
And as every mother would know how challenging toddlers can be, she added:
"I don't want to rely on it, but on some occasions, it can help us keep our sanity and avert meltdowns, and those two things I feel are essential to the survival of toddlerhood. P.S. I've learned to always lock the phone down with guided access, so they can't switch off to another screen, or call or text or make an Amazon purchase."
Congratulations on the happy news!
Consider following if you are on Instagram. Or read more on our Twitter account @amomama_usa or both!
Please fill in your e-mail so we can share with you our top stories!