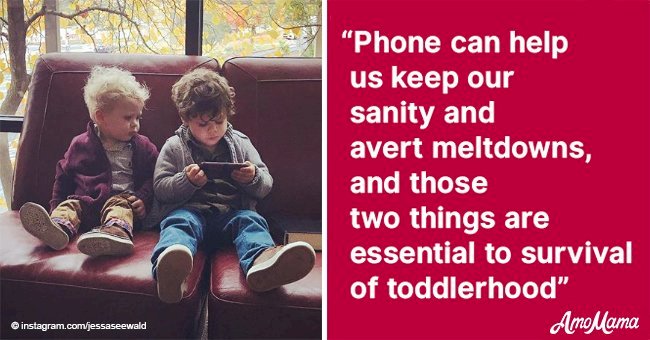 Jessa Duggar shamed for letting sons use a mobile phone, but claps back with a perfect response
A range of comments ensued after Jessa Duggar posted a picture of her two sons using a cell phone.
When 'Counting On' star posted a picture of 3-year-old Spurgeon and 1-year-old Henry sitting on a couch using a cell phone to look at sports stats, other Instagram followers did not waste time in voicing their opinions.
They did not approve of her actions as one user wrote:
"We learned patience and manners out and about. I think they'll survive just fine without it, for now."
"Just FYI — it's recommended that children under 2 should have no screen time."

Source: Instagram/jessaseewald
Other users pointed out that she did not ask parenting advice and being their mother, she has the right to make decisions about what they do. 26-year-old Jessa took the time to respond to the myriad of negative comments and said:
"At this point we don't let them play games or anything on our phones, but they do enjoy getting to watch some Peppa Pig on special occasions usually if we're out and about and it's pushing nap time, or if we're at a restaurant and they've been sitting for a long time."

Source: Instagram/jessaseewald
"I don't want to rely on it, but on some occasions, it can help us keep our sanity and avert meltdowns, and those two things I feel are essential to the survival of toddlerhood. P.S. I've learned to always lock the phone down with guided access so they can't switch off to another screen, or call or text or make an Amazon purchase."
The mother of two met husband Ben Seewald in 2013 while attending the same church after dating for a while the couple got engaged in August 2014 and wed later the same year on November 1.
Their eldest, Spurgeon Elliot was born on November 5, 2015, and brother Henry followed on February 6, 2017. When naming the boys they did not follow the naming tradition Jessa grew up with where all her sibling's names start with the letter 'J.'
Passionate about her family life she is for sure, but during her spare time she indulges her two other passions, her love for traveling and football. J
Jessa had also written a book that got published in 2014 called 'Growing Up Duggar' and was co-written by Jessa's sisters Jill, Jana and Jinger. The book revolves around the life of a large family, their religious beliefs and the sisters' social relationships.
Fans lashed out at Carrie Underwood on October 20 too. Underwood had posted a selfie during her son's soccer game and fans had no qualms about speaking their mind.
In the picture, Underwood looks glamorous, and some fans were of the opinion that she dressed inappropriately for the occasion. Underwood had supporters as well urging her not to pay attention to the negativity.
Please fill in your e-mail so we can share with you our top stories!