Amy Roloff Is Leaving the Farm and Fans Are Sad That Her 'Adventure Is Ending'
Amy Roloff is ending a big part of her life's journey as she leaves the farm that she's called home for three decades. Fans are both torn and happy to know she's moving on. 
In Tuesday's season finale of the hit reality show "Little People, Big World," Amy finally made a decision about whether or not she would leave Roloff Farms. 
Since the start of the season, fans have been wondering if Amy was ready to make such a drastic change and leave behind the home she raised her children in and the farm she's helped manage for so long. 
A March preview teased fans when it showed Matt and Amy having a conversation expressing doubt about how well they could run the property due to the significant changes going on.
According to Pop Culture, in looking at the situation, Amy said: 
"This has been a huge, huge decision, and it's probably caused me a lot of stress and a lot of anxiety and a lot of sadness. It was hard to get to this place, but I think it's time."
She continued: 
"I've been dreading making this decision. I wish it came a lot quicker, but it didn't. And so I did take the time. It wasn't easy for me, but I'm glad it's here now."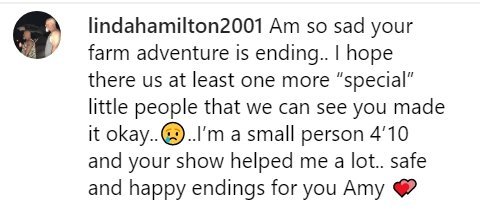 After that, Amy approached her ex-husband Matt and they discussed things.  She told him: 
"I don't think any decision was really a good one. I think it's the best one, not only for right now, but I think in the future for me. This farm worked for me because we had two people making it happen. I can't do it on my own." 
She recognized that "everything" relating to the farm has changed for her. Fans certainly agreed. But left with the impression that they would no longer see Amy on the show, many were very sad about her departure.
One person even said that they cried upon hearing the news. However, they supported her "new beginnings" and remembered that "life and time wait for no one." 

As for Matt, he did a post-interview and spoke of the meeting's conclusion:
"I'm a little surprised Amy is choosing to sell her equity of the farm, but you know, it feels like it might be the right decision. I know it's hard for her — it's hard for both of us and she's been raising her kids here for 30 years, but I do think it feels like it's time to move on."
Matt and Amy divorced in 2016 after nearly three decades of marriage. Their son Zach had this to say of the new development: "I think probably that's the best choice. It will be harsh and quick, but then the road to recovery, I think will happen faster."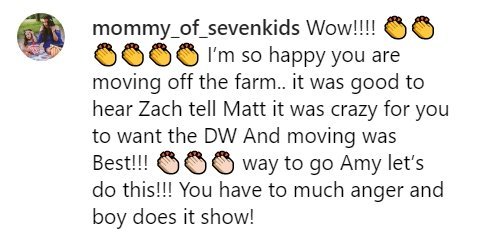 Meanwhile, Matt is already prepared to tread a new path with new girlfriend Caryn Chandler. The pair recently bought a house in Arizona. Amy has also moved on and is dating boyfriend Chris Marek. 
As Amy prepares to take her leave, fans may look forward to seeing a newer favorite on the show, Audrey Roloff. She entered the picture by when she married Jeremy Roloff and last September the two welcomed their first child together, Ember. 
So far, Audrey has not been one to hold back when it comes to sharing personal details, including bodily changes during her pregnancy. She documented it in her public blog and regularly posts family updates to social media. 
The runner and former big city girl is even preparing to write a book with her husband. It will talk about their love story from meeting to marriage. With her new fan base, Audrey will likely see success not only with her book, but also the clothing line she runs.