Jill Duggar Gets Mom-Shamed for Putting Her Little Son in an Unsafe Position in a Car Seat
The "Counting On" reality star was at the receiving end of harsh criticism after she posted a seemingly harmless photo of her 2-year-old son in his car seat.
Celebrities falling victim to "mom shaming" to social media has unfortunately become a common phenomenon. A few days ago, 28-year-old Jill Duggar Dillard was at the receiving end of it.
She took to Instagram to post a snapshot of her son, Samuel, 2, sitting happily in his car seat. The little boy wore a smile in his face as he held a corndog in his hand.
"Made a quick trip to [Sonic Drivein] for a little [family time out]. Sam loved his corndog," the proud mom  captioned the adorable picture.
She also hinted that her child was sick by adding a hashtag: "#sickkids"
THEN CAME THE INTERNET MOM-SHAMING...
However, soon after her post, several fans jumped in to remind Dillard about a few things that they thought were wrong about the photo.
Several fans had issues with Samuel not rear-facing in the car as well as with the extra straps that was put on him.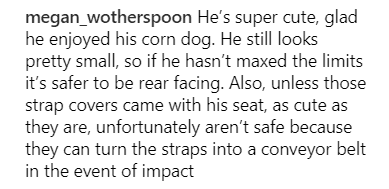 One Instagram user, "megan_wotherspoon" wrote, "He's super cute, glad he enjoyed his corndog. He still looks pretty small, so if he hasn't maxed the limits it's safer to be rear facing. Also, unless those strap covers came with his seat, as cute as they are, unfortunately, aren't safe because they can turn the straps into a conveyor belt in the event of   impact."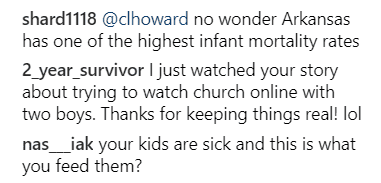 Meanwhile, a few other fans also came to Dillard's defense, arguing that she hadn't asked for anyone's advice. Others simply argued that Samuel was old enough to be forward-facing in the car seat.

After being attacked by other fans for giving Dillard some advice, Instagram user "megan_wotherspoon" defended her action by writing that she "simply stated the facts" so that more people could see it and become aware regarding the dangers.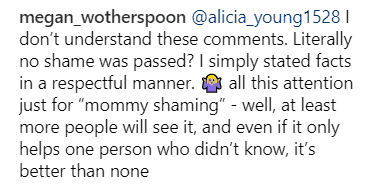 Other fans also joined in to argue that such advices were not an attempt to mom shame, but rather "save a child's life."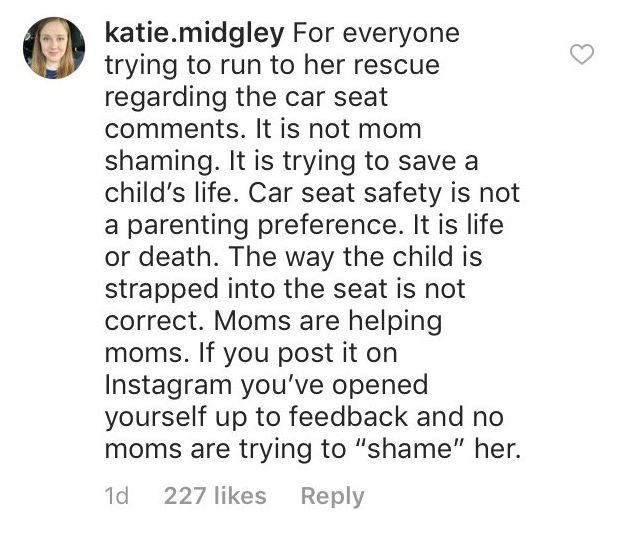 The reality star recently made headlines with her advice on maintaining a strong marital life. In her blog post, she gave some relationship advice including a few bedroom tips to keep a marriage strong.
Dillard is a proud mother to two adorable children. However, in April last year, rumors about her third pregnancy emerged after she posted a family photograph on Instagram.