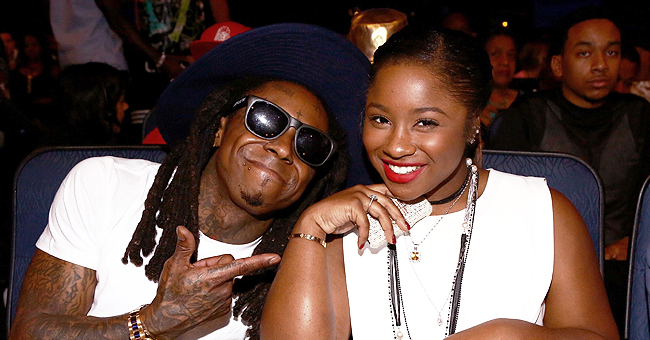 Getty Images
Reginae Carter on How Nipsey Hussle's Death Has Affected Relationship with Dad Lil Wayne
The death of a person with an influence on you could lead you to realize something you may not have taken seriously before. That scenario is what Reginae Carter finds herself as Nipsey Hussle's death makes her want more time with her father.
Nipsey Hussle's death in March was one that shocked many people and left many sad. It also changed the way some persons viewed life, and one of such persons is Reginae Carter, daughter of rapper, Lil Wayne.
REGINAE'S RELATIONSHIP WITH NIPSEY
Reginae Carter's brother Cameron had Nipsey as a father figure as his mother Lauren London was in a relationship with her father. For that reason, she was able to see firsthand the kind of father Nipsey was and that knowledge gained greater significance when he died.
LESSONS REGINAE LEARNED FROM NIPSEY'S DEATH
She explained that she would love to spend more quality time with him. She appreciated that he was always there for financially, but wanted more memories with him performing activities and doing things together much more.
REGINAE AND LUCCI'S RELATIONSHIP
Nipsey's death did not only have Reginae thinking about her relationship with her father, but she also gained some insight about her romance with the 28-year-old rapper, Lucci. While speaking with her mother, she disclosed that she needed some change.
She explained that she felt betrayed by the rapper's tweet about a discussion she had with him. She had told him that she needed him to protect her as she didn't feel safe, but was betrayed when he went on to tweet about it.
Her mother was happy that Reginae had seen reasons to end her relationship with Lucci and she wasn't alone in that regard. Fans of the show also wanted the 20-year-old to call it quits with the rapper.
REGINAE IS SO MUCH LIKE WAYNE
Fans also reacted to Reginae's striking resemblance to her father. The reality star had posted a picture on her Instagram in which she modeled for a promotional post. The picture showed just how much the Reginae resembles her father, and fans made her know it.
Not that she needed reminding.
Please fill in your e-mail so we can share with you our top stories!