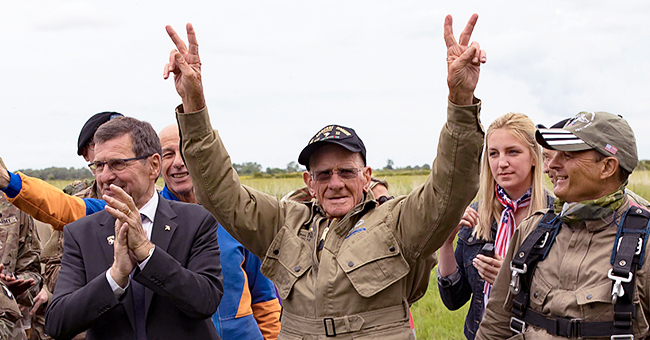 twitter.com/people
WWII Veteran Tom Rice, 97, Makes an Incredible Parachute Jump over Normandy on D-Day
Tom Rice proved that age is just a number when he made an incredible parachute jump in Normandy on D-Day, and his reaction afterward is epic.
When the allied forces invaded France from the sky to free it from the hold of the German military during World War II, war hero — Tom Rice — was part of those who made the jump in Normandy, France.
MAKING THE JUMP
The veteran in honor of this year's D-Day celebration decided to jump again. In a video posted on YouTube, Rice jumped from a C-57 military aircraft — similar to the one that deployed about thirteen thousand US troopers in 1944 — with the help of a trainer.
The 97-year-old veteran trained for six months so he can make the jump, and while in the air, he deployed the United States flag, and his parachute also had the country's colors.
On reaching the ground, the war hero got treated to cheers from the crowd at Carentan — the same field of wildflowers where he landed 75 years earlier — and he proudly declared that he is the symbol of a generation.
When those around asked how he felt after the jump, Rice said everything went perfectly, and he wouldn't mind doing it again.
THE WORST JUMP OF HIS LIFE
He jumped in the company of about two hundred men from the United States Military, and the veteran recalled that his jump with the allied forces in 1944 did not go as smoothly as the one he just finished.
On that fateful day, with bullets coming at the troopers from below as they descended, one tore into the parachute of Rice, and he equally recalled getting bounced around the aircraft after his left armpit got caught in the lower left-hand corner of the door.
In his words,
"It was the worst jump of my life."
Now, he got to remedy it with the second and last jump he'll make in Normandy, with the support of his partner.
FINDING CLOSURE
Rice's parachute partner — Art Shaffer — owns the SkyDive Palatea and has taken part in about 16, 000 jumps. He specially designed the chute he used in jumping with the veteran, and Shaffer also had a unique computer installed for extra safety in case anything goes wrong with the parachute.
The invasion of Normandy shifted the odds in favor of the allies, and although they lost about 38% of their men, they were able to drive out the Germans.
Rice is glad he got to participate in this year's event; for him, it is closure for all the harm the troopers caused in trying to save France, and now, he gets to move past it.
Please fill in your e-mail so we can share with you our top stories!