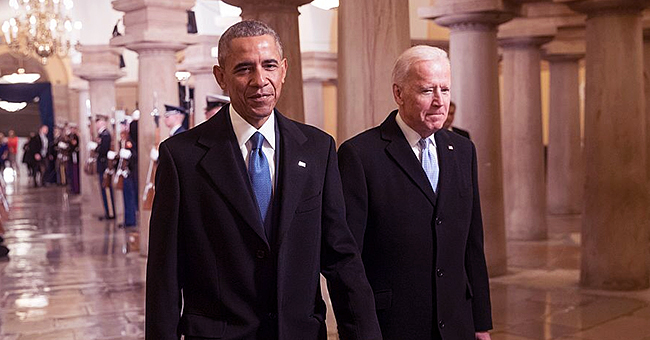 Getty Images
Joe Biden Posts a Friendship Bracelet with His and Barack Obama's Names for 'Best Friends Day' (Photo)
On Saturday, former Vice President and 2020 presidential elections hopeful, Joe Biden marked "Best Friends Day" with a special post. He shared a special image with the name of his best friend.
Joe Biden, 76, celebrated "Best Friends Day" by paying tribute to his friendship with former President Barack Obama. The former vice president tweeted an image of a friendship bracelet with both of their names on them.
He captioned the photo: "Happy #BestFriendsDay to my friend, @BarackObama." Biden initially used the bracelet in August 2016 to celebrate Obama's 55th birthday.
However, his post didn't go down well with everyone on social media. Some people accused Biden of trying to associate himself with the former president in order to gain supporters for the 2020 elections.
An Obama parody page responded in the comments: "Back atcha Joe." On Sunday David Axelrod mocked the tweet by posting the question: "This is a joke, right?"
Axelrod was the campaign chief strategist for the Obama and now hosts The Axe Files on CNN. Obama promised not to give any 2020 presidential candidates his endorsement during the Democratic primary.
Biden was included among the candidates. The former vice president is currently leading among the 24 Democratic candidates who wish to win.
However, recently his lead has become smaller. On Saturday, a Des Moines Register–CNN poll saw Biden at 24 percent support while Sen. Bernie Sanders sat at 16 percent.
Sen. Elizabeth Warren was at 15 percent and Mayor Pete Buttigieg was sitting comfortably at 14 percent.
In different news, Obama has been working on his memoir. According to reports he plans on outdoing his wife, Michelle Obama's 2018 memoir's success.
His book will be released by Penguin Random House. The plan was to release the book this year but that has been held back until 2020 when the presidential election run is at its most intense.
Reports stated that the former president was a bit competitive after his wife's book "Becoming" went big when it came out. Her memoir could become the best-selling autobiography ever with 10 million copies sold.
Please fill in your e-mail so we can share with you our top stories!