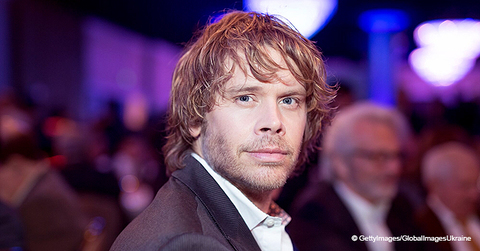 An Inside Look at the Lives of NCIS: LA Star Eric Christian Olsen and His Wife Sarah Wright
Fan favorite "NCIS: Los Angeles" couple, Kensi Blye and Marty Deeks, played by Daniela Ruah and Eric Christian Olsen tied the knot in the show this year and sparked fans curiosity about the actors behind the characters. Especially Eric and his real-life wife.
On "NCIS: Los Angeles," actor Eric Christian Olsen plays the character, Marty Deeks. He is known for his jokester personality and his sweet relationship with Kensi, played by Daniela Ruah who is married to Eric Olsen's brother in real life.
According to reports, the actor is as funny and good-natured in real life too. He is also married to the gorgeous actress Sarah Wright Olsen.
How Did He Meet His Wife:
The couple has been together since 2006. They met on the set of the Fox sitcom, "The Loop" before parting ways for different shows.
Sarah starred as Millicent Gergich on NBC's "Parks and Recreation," and also appeared opposite Tom Cruise in "American Made." Eric signed up for "NCIS: LA" and has appeared in ten seasons so far.
Their Relationship:
Even though their careers went separate ways, they continued to date for five years. Eventually, they got engaged in Mexico in 2011.
Despite their busy schedule, they remain committed to their family.
Sara and Eric tied the knot in 2012 in Jackson Hole, Wyoming. They exchanged vows in an outdoor ceremony in the evening.
The ceremony was performed by Eric's father, Paul. It was held at the Wyoming barn the actor bought and remodeled with his family and Wright.
"You hear people talk about cold feet, but there was never a moment of doubt with Sarah because no one makes me happier, no one makes me laugh more, and I can't imagine a better mother for our future children," said Eric, 35.
Starting Their Family:
The couple has two children together. Their first child, a son, Wyatt Oliver Olsen was born on August 16, 2013. They welcomed their second child, a daughter, Esmé Olivia Olsen into the world on August 9, 2016.
After the birth of their daughter, Esmé, Eric posted on Instagram how he admired his wife's strength. He wrote:
"I am in awe of this woman; somehow navigating the most difficult moments with equal parts passion, fearlessness, and all-encompassing love. I suspect she may be magic."
Their Careers:
Sarah and Eric both have thriving careers. In addition to his role on "NCIS: LA," Eric also dipped his finger into executive producing with two new CBS shows and producing "First Lady," and a Hulu action-comedy, "Woke."
In late 2018, Sarah launched an organic skincare line called Bāeo Baby. However, despite their busy schedule, they remain committed to their family.
Sarah revealed that Eric always put his family first and makes time for them. In a post on Instagram she wrote:
"I am completely in awe of what you do, how you do it and how you make so much time for us it never feels like you are away."
Their Lightheaded Love:
Eric and Sarah often share the lighthearted side of their relationship on both social media and reality TV. When Eric, 41, signed a deal with CBS to executive produce two shows in 2018 Sarah took to Instagram to congratulate him saying
"So this is where you have been? .... I was convinced you took up pottery or you were chasing your bowling league dreams."
The couple also made a joint appearance on the "Steve Harvey Show." During the show, they played "Happily Ever After" which required them to give answers about their life together.
They agreed on every topic except one. Their son's first words seemed to throw a spanner in the works when Eric claimed Wyatt said "Da Da." However, Sarah claimed those were "mere noises" and his first words were actually "Duck Duck."
Other Ventures Besides Acting:
Besides their careers and family, the pair also participate in various other ventures. Eric is an Honorary Board Member and Spokesperson for "Hats Off for Cancer" and featured on their Public Service Announcement video.
While Sarah teamed up with her fellow actress Teresa Palmer to co-found a parenting website called Your Zen Mama. The site boasts "an all-encompassing space to build a community of parents and caregivers discussing the comedy, beauty, and complexity of pregnancy and parenthood."
Please fill in your e-mail so we can share with you our top stories!