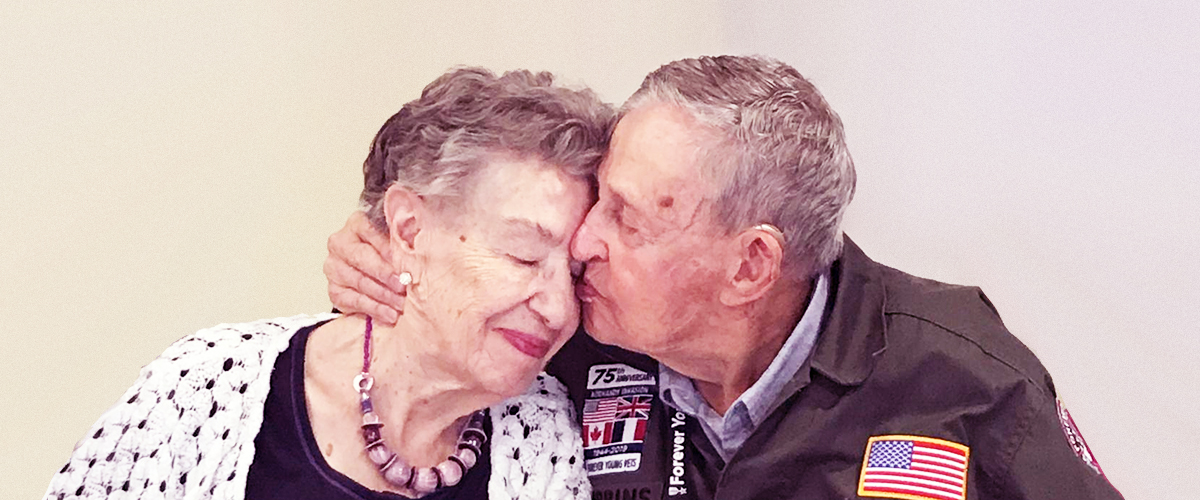 twitter.com/franceinfo
97-Year-Old Veteran Reunites with His 92-Year-Old Love after 75 Years
True love never fades; it is ageless and timeless; it blurs race or color. Two lovers share a passionate kiss as they reignited their affection after spending 75-years apart.
A 97-year-old American soldier, KT Robbin who fought in the second world war recently reunited with his former lover 92-year-old, Jeanine Ganaye from France.
The duo began their love affair after they crossed each other's part in Briey, France. Young Robbin who was in the army in the 26th infantry First division, was posted to Jeannine's hometown and got affiliated with her family after her mother offered to do his laundry.
Few weeks after they kick-started their love affair, Robbin was obliged to return to the war front to fight against the Axis Powers. 18-year-old Jeannine was devastated, even after her soldier boyfriend assured her of his return.
According to the information garnered by a French broadcasting channel, France 2, the pair explained the departure. In Robbin's words:
"I told her, maybe I'll come back and take you, but it didn't happen like that."
While Jeannine said:
"When he left in the truck, I cried, of course; I was very sad. I wish after the war; he hadn't returned to America."
After his return to his hometown, he enlisted his service in the bakery battalion in Mississippi. He gave his heart another chance of love and got acquainted with Lilian whom he later married and spent about five decades of his life with before she kicked the bucket in 2015.
Robbin was not the only one who seemingly moved on. Although when he left for America, she began to brush up on her English with the hope of his return.
However, in 1949 a few years after he left, she fell in love with another man, whom she married and had five children with.
Although the war veteran didn't return sooner, he had his French love ingrained in his heart, as he preserved a black-and-white picture of her.
In the course of an interview with some reporters about the second world war, he showed them the photo and explained that while he visits France to celebrate the 75th anniversary of the D-day, he would like to visit her family. He assumed that she was dead.
The journalists tried to find out more information about Jeanine and her whereabouts. They discovered that she was in a retirement home, and arranged a meeting for the former lovebirds.
When he received the news that she was still alive, he excitedly blurted out the words: "No Kidding!" The first words that came out of his mouth when he saw her were:
"I always loved you; you never got out of my heart."
The pair instantly synced in an embrace and tender kiss. She was equally thrilled to see the veteran after he showed her the picture which he had kept all those years; all she could say was "Wow!"
They promised to spend more time with each other after the anniversary was done in Normandy, as the ex-soldier left to attend. Hopefully, Robbin returns this time!
Please fill in your e-mail so we can share with you our top stories!