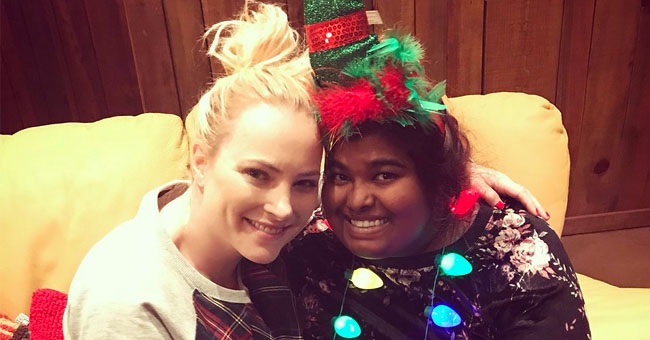 Source: Twitter/MeghanMcCain
Meet Bridget, Meghan McCain's Youngest Sister Who Was Adopted from Mother Teresa's Orphanage
As the youngest of the McCain clan and sister to the political commentator Meghan, Bridget had a unique start in life after the late Senator McCain's wife "couldn't give her up."
Seven children make up the McCain family. From Senator John McCain's marriage to his first wife, Carol Shepp from 1965 until 1980, he adopted her sons, Douglas and Andrew. In 1980, John married Cindy Hensley with whom he had Meghan, Jack, and Jimmy.
During a solo trip in 1991, Cindy came across two girls at a Bangladeshi orphanage run by Mother Teresa in Dhaka.
According to the New Yorker, Cindy recalled the first time she laid eyes on the two girls during a speech in 2008. "She was sick and tiny, and she was only ten weeks old. And I got to know her a little bit, and I was with her for quite a while," she said.
The one girl had a heart problem and the other a severe cleft palate. She decided to bring both babies back to the US for proper medical treatment, but John only became aware of this when he picked her up at the airport in Phoenix, Arizona.
"In front of a thousand reporters and a whole lot of people he whispered down to me and said, 'Well, where's she going to go?' And I said, 'I thought she'd come to our house,' " Cindy said. "And he looked at her, and he loved her just the way I have ever since. And I think that says a great deal about the man."
John and Cindi decided to adopt Bridget with the cleft palate while close friends of the McCains adopted Mickey with the heart problem. "She has enriched our lives," John said. "She's a wonderful child, a complete part of our family and we love her."
During Senator John McCain's presidential campaign in 2008, his children largely remained absent as he put being a father ahead of his political career. "It's intentional. I just feel it's inappropriate for us to mention our children. ... I'd like them to have their own lives. I wouldn't want to seem like I'm trying to gain some kind of advantage. I just feel that it's a private thing," he said.
With the exceptions of his daughter Meghan, who entered a public political career and John's wife, Cindy, who stood by him throughout his political career, the rest of the family chose mainly low-profile lifestyles out of the public eye.
In August 2018, at the age of 81, John passed away after a battle with brain cancer. A few months after, Meghan shared her mourning with a touching video of her late father.
The clip showed how Meghan McCain's father taught her husband, Ben Domenech how to barbeque ribs and also revealed why she hasn't been able to go back to Arizona since his death.
Please fill in your e-mail so we can share with you our top stories!