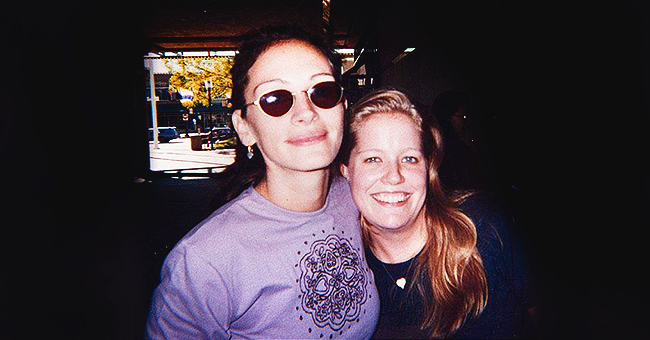 Source: Twitter/DiaaDiaPa
Here's Why Julia Roberts' Half Sister Nancy Motes Took Her Own Life
"Pretty Woman" star Julia Roberts had dealt with triumph and loss. It took weeks after the tragic death of her maternal half-sister, Nancy Motes before Julia publicly opened up about her feelings.
According to the L.A. County Coroner's Office, paramedics found 37-year-old Nancy on the bathroom floor of a Los Angeles home on February 9, 2014.
Prescription drugs were found close to her body, and she had reportedly left a suicide note wherein she mentioned the estrangement from her family.
Shortly after Nancy's death, the family issued a statement that said the news had left them "shocked and devastated," while it took Julia time before she could talk about it.
"It's just heartbreak. It's only been 20 days. There aren't words to explain what any of us have been through in these last 20 days," Julia told WSJ Magazine in April 2014 and added, "It's hour by hour some days, but you just keep looking ahead. You don't want anything bad to happen to anyone, but there are so many tragic, painful, inexplicable things in the world."
Nancy had worked on "Glee" as a production assistant and engaged to John Dilbeck at the time of her death. During an interview with RadarOnline, John vented about the way Nancy's funeral in Smyrna, Georgia got handled.
John told the publication that he and several of Nancy's friends did not get invited to her funeral and that Nancy would not have wanted Julia there. "It really hurts. I was very frustrated and hurt by it. I needed to voice being hurt because Nancy's voice is being silenced," John said.
Along with her sister, Lisa and her mother, Julia, arrived at the New Smyrna Cemetery when mourners had already gathered. After the ceremony, Julia stayed until virtually everyone had left before she headed to a nearby hotel for the wake, where she said a few words.
In July 2014, MailOnline published details about Nancy's suicide note they obtained. According to the letter, Nancy blamed Julia and other family members for her fatal drug overdose.
"My mother and so-called 'siblings' get nothing except the memory that they are the ones that drove me into the deepest depression I've ever been in," the note read. "I've suffered thru this disease all my life. However, it has never been this bad. I burst into tears every morning (because) I woke up."
John discovered Nancy's body in the home she house-sat, three months before they planned on having their wedding. The Los Angeles County coroner's office confirmed that Nancy climbed into a bathtub after she took a variety of drugs.
In a related story, another actor struggled with the devastating loss of his son to suicide. In February 2019, the legendary daytime soap opera star, Christoff St. John died after he committed suicide.
In the months following his death, his widowed wife, Mia St. John spoke about the tragedy that led up to Christoff's final days.
The National Suicide Prevention Lifeline is 1-800-273-8255. Other international suicide helplines can be found at befrienders.org.
Please fill in your e-mail so we can share with you our top stories!