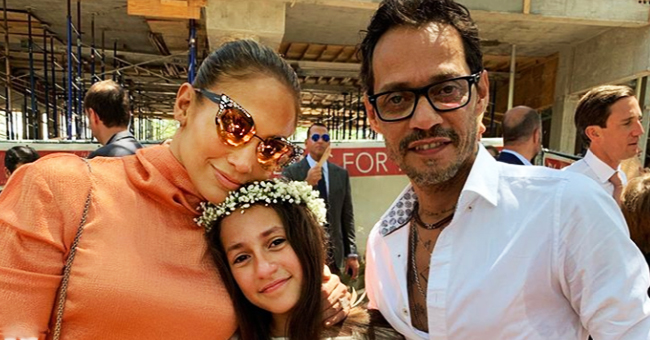 instagram.com/jlo
JLo Praises Ex-Husband on Father's Day, Thanking Him for Their Beautiful Coconut Twins
The 49-year-old screen diva, Jennifer Lopez celebrates her former husband, Marc Anthony, on Father's day with sweet and admirable words!
Recently, in an Instagram post, the pop star serenaded her ex-husband with passionate praises. He happens to be the father of her 11-year-old twins, Emme and Max.
She shared a couple of photos and videos depicting all the precious little moment the family has spent together. She even put up a picture of her current Beau, Alex Rodriguez showing just how much he's "bonding" with her children!
Her post captioned:
"Happy Fathers day to you Flaco!!! Emme and Max love you soooo much!! Thank you for these two beautiful coconuts!!! Feliz Dia Del Padre!!! #throwback."
Another clip which was dedicated to her lover, Alex was uploaded, and she very well thanked him for his intrusion in her life and that of her kids! It read:
"How lucky we are to have you in our lives...not only do you make us laugh every day, you help us to be our best selves with a loving, gentle hand. Being there and caring with a consistent presence that doesn't ever waiver. Macho...I cannot begin to tell you how much you have come to mean to me and Max and Emme. Seeing the father, you are to Tashi, and Ella is one of my greatest joys. And they are so fortunate to have you to call Daddy!!! We all love you so much!! Happy Fathers Day!!!"
Both Jlo and her fiance seem to be having the time of their lives as they intend to stay good parents for their kids. While JLo has a significant bond with her kids, Alex also has a strong relationship with his two girls, Natasha and Ella!
Both lovebirds also intend to cement their relationship, by exchanging vows next year. The actress stated that the marriage ceremony would be grand and it will be in a church.
Although she's said "I do" on three different occasions, she considers herself to have been only married once to Marc. Her marriage to her ex-husband lasted for a decade, but both of them seem engaged in matters concerning their children, and they depict perfection in parenting!
Recently, during her birthday "My PartyTour," one of the twins sang on stage with her. After the outstanding delivery of Emme her daughter on stage, Jlo gushed and proudly expressed her confidence in her daughter's singing talent.
The twins seem to have a thing for signing, as Marc and JLo sang along with their son at a recital. Mama and Papa's genes, right?
Alex was there to show his support to the team. However, the sport's star stops at nothing to talk about his dying want for all four kids, Natasha, Ella, Emme, and Max to bond! In an interview with "People," he said:
"We couldn't have asked for anything better than the four of them getting along as they do."
Although Marc is a wonderful dad, Alex has also shown his great love towards being involved with the kids, and it is a vital ingredient to a healthy and long lasting relationship between him and the actress!
Please fill in your e-mail so we can share with you our top stories!